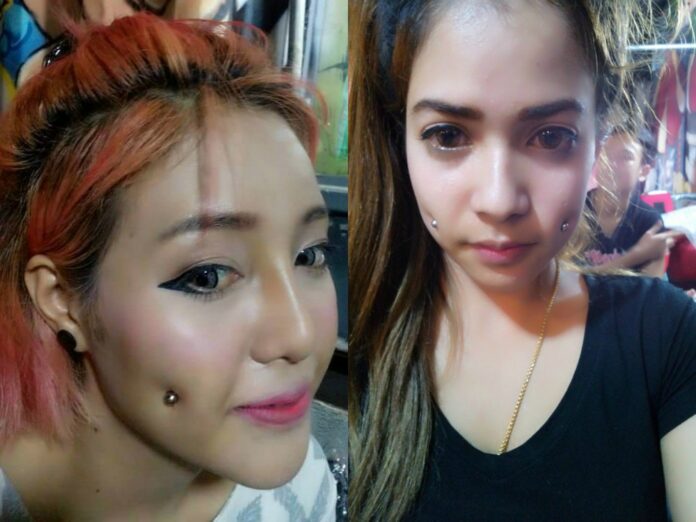 BANGKOK — Those looking to punctuate their smiles with deeper dimples have two options. They can go to a licensed clinic and pay upward of 8,000 baht per cheek or pay someone at an underground clinic to push metal pins through both cheeks for about 900 baht.
Until Friday, one of the top places to do that was an illegal clinic operating in a piercing studio among the fashion and food stalls at a weekend market in Chatuchak Park. Police moved in to shut it down after two years of operation and thousands of procedures.
Called "dimpleplasty," surgically altered cheeks are the latest millennial beauty trend. Although many beauty clinics offer the service, the price is out of reach for many who turn to underground chop shops, where they risk side effects from infection to facial paralysis.
"Dimple creation must be done at health institutions only," said Arkom Praditsuwan, director of a government health licensing agency called the Sanatorium and Art of Healing Bureau. "Those who do it elsewhere are prone to risks: effects to blood circulation, the nervous system and skin. It can lead to facial paralysis."
That's because the face is packed with nerves and delicate muscles, according to Wisit Tangnapakorn, a physician and director of another government health services agency. Wisit agreed the dangers posed by penetrating the cheeks with needles means it should only be done by licensed and registered medical professionals.
Although the health department could not provide data, there is considerable anecdotal evidence of injuries caused by unlicensed dimple piercing. Many complaints found online, such as in this Pantip thread, refer to piercing jewelry that gets "sunk" and "stuck" in the cheek. Some say their cheeks turned red and swollen. Cases of unstoppable pus have also been reported.
A physician named Kannichaphat Klinhom with a beauty clinic said online on Facebook that a patient walked in with her pierces stuck inside both cheeks. The unidentified patient was said to suffer from pus and pain, and being rejected from applying jobs, for nearly one year.
Dimpleplasty has surged in popularity this past year, especially among the celebrity-obsessed who are told they will gain the features of Miranda Kerr or Harry Styles.
The procedure involves punching a hole through a major cheek muscle. Performed correctly, the surgery leaves no scars.
On Friday, the Jack Dorson piercing studio at JJ Green was raided by police and health officials. Owner Tanatuch "Jack" Kanmaha faces charges of operating an unlicensed medical clinic and practicing medicine without approval.
Although Jack's shop provide body piercing service, but it is very much known for dimple-making piercing. It had operated Thursdays through Sundays since 2015 at the Jatujak Green (JJ Green) night market.
Hundreds of photos and videos can be found of men – but mostly young women – sitting for the procedure on its Facebook page, which has more than 150,000 followers.
The shop charged 700 baht to 900 baht for both dimples.
How is it done? Like other kinds of body piercing, the process involves applying a topical anesthetic before inserting needles and jewelry. But dimple piercing requires leaving the metal caps exposed on the cheeks for a couple months before removal.
The 1982 Medicine Profession Act requires those doing such procedures to be properly licensed and registered by the Medical Council.