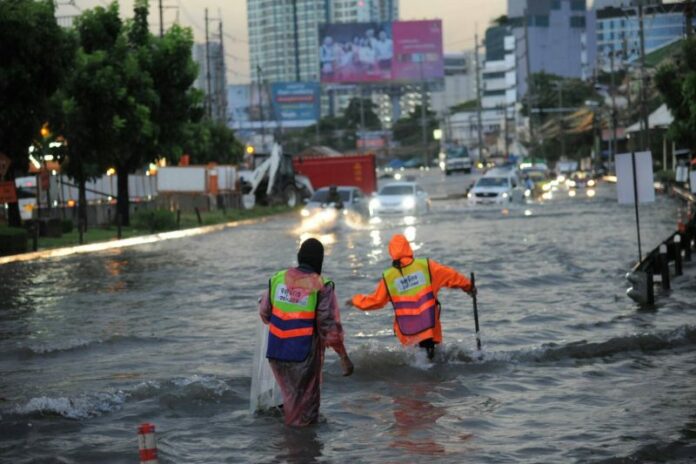 BANGKOK — Flood conditions persist in at least seven provinces nationwide, with seasonal monsoon rains expected to continue lashing the country throughout the week.
Most of Bangkok will be pelted with wet through Thursday only to see a heavier downpour arrive Friday and continue Saturday. Expect lows of 22C and highs of 36C.
Other regions are almost certain to see rain through Thursday. Provinces in the north, northeast and along the Andaman coast will experience more intense rain over the weekend.
Residents in the north, central, eastern and southern regions should be on the lookout for heavy rains and flooding Friday and Saturday. The severe flooding which struck provinces a wide swath of provinces Aug. 4 continued to plague Phetchabun, Yasothon, Ubon Ratchathani, Nakhon Phanom, Roi Et, Ayutthaya and Kalasin.
Health officials and volunteers have been dispatched to affected areas by the Public Health Ministry to combat possible waterborne illnesses, state media announced Sunday. Local health offices were also providing residents with services.
According to the Thai Meteorological Department, this week's rains are driven by tropical storm Hato, which is moving west over the South China Sea in the next few days.
Related stories: