BANGKOK — Upon hearing the news, Kiattichai Phongkaew suddenly collapsed on the ground. Crying, he turned to face the Sanam Luang, where smoke lingered in the air above the crematorium, and prostrated.
The cremation of King Bhumibol was already finished, and he had not known until a reporter mentioned it.
"I missed the last chance to send you off, dad," he said, breaking into tears.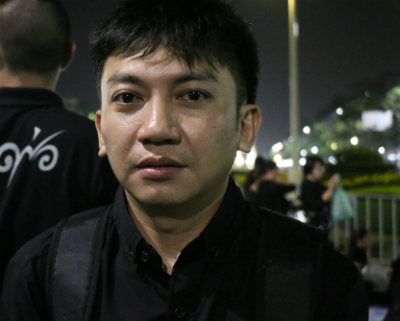 Like Kiattichai, thousands of mourners waited last night on Ratchadamnoen Avenue to bid farewell to the king they called father. They believed the actual cremation would be broadcast live as it had been done in previous funerals for other royal family members. But that broadcast never came, and no announcement would be made until much later.
In a scene similar to Oct. 13 last year, when well-wishers at Siriraj Hospital were the last to learn the king had died, devout mourners lashed by rain and seared by sun on Ratchadamnoen Avenue had no idea what was going on until they heard from friends watching from home.
Read: Thailand's 'King of Kings' Laid to Rest in Ancient Ritual
The decision not to broadcast the actual cremation seemed to even catch uniformed officials at the event, some of whom said it was merely delayed and still coming, while another simply said he did not know why it wasn't shown.
By Friday, competing explanations were emerging as to why people were not allowed to witness the cremation of their longest-reigning monarch. But whether it was a last-minute change or just a poorly communicated decision, one fact not in dispute is that it came as a surprise – and disappointment – to the nation.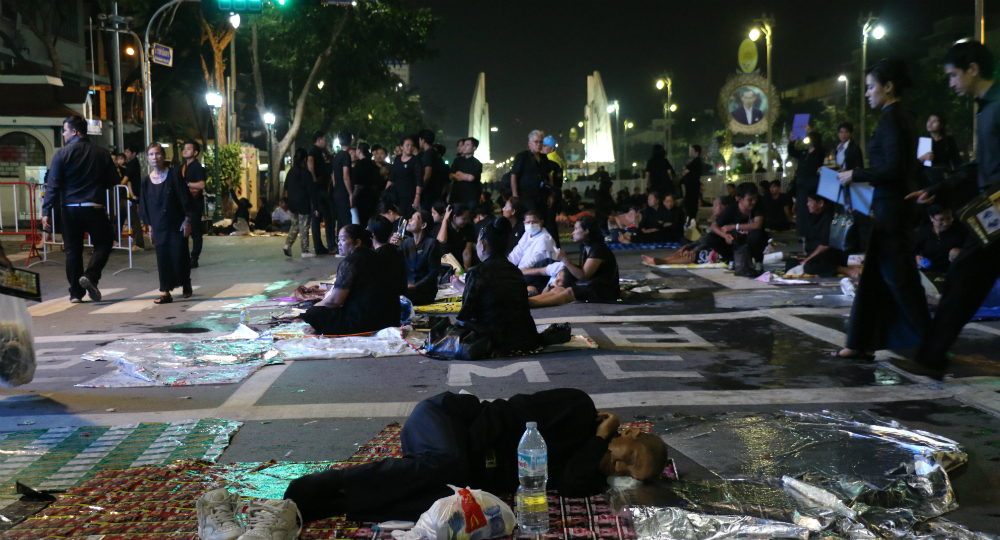 Wanting to Be Close
Those who slept on the sidewalk since Monday night and tolerated heavy downpours were able to secure places inside the ceremony area starting at 5am on Wednesday.
By Thursday morning, more than 110,000 mourners had filled the royal field, but there were even more people who failed to get access and decided to stay around including on Ratchadamnoen Avenue. They slept on mats and used their bags as pillows. Some were prepared with blankets.
The official televised broadcast schedule did not note the 10pm cremation. It only stated there would be a cremation ceremony at 4:30pm and the next scheduled content was at 8am for the collection of the king's remains.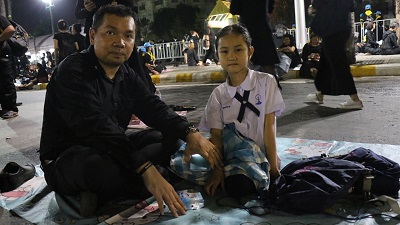 But most people believed they would get to watch the actual cremation because the practice has been done in other royal funerals.
"I don't know what they all say, but the actual cremation has to happen per tradition," said Torpong Soonthornvipas, who sat with his 7-year-old daughter and vowed to stay until morning. "It has always been showed every time in the past."
Reporters were told the live broadcast would run all night, and that public performances marking the end of the mourning period would be suspended during the actual cremation. At 9pm, a Khaosod English reporter at the official press center was told the ceremony would definitely be televised.
As 10pm was approaching, more people arrived. Fifteen minutes before the scheduled cremation, police allowed more newcomers onto the avenue.
"We can't get inside Sanam Luang but we will graab the king for the last time together here on the road," shouted a policeman as he urged people to rush in.
At 10pm, people were still sitting quietly in front of the screen getting ready for a time they never wanted to come. Many meditated. But the screens kept looping a documentary about King Bhumibol's works. At one point, it cut to show a live orchestra performing in the Sanam Luang.
When the time arrived, audience members watching from home saw the coverage cut and replaced with a message: "Royal Cremation of His Majesty King Bhumibol. Everyone is advised to turn toward the Meru Mas and pay their highest respects."
Those on Ratchadamnoen Avenue saw nothing except the continuing performances and assumed the ritual was delayed.
A Khaosod English reporter at the press center confirmed at 10:38pm that the actual cremation would not be aired. At about 11pm, a royal fire was lit at the replica crematorium on Ratchadamnoen Avenue to burn sandalwood flowers. Next to it, a large screen was still broadcasting an orchestral performance.
By that time, the crowd was confused and reluctant to leave. No official announcement was made. Some decided to leave, while others refused and chose to stay.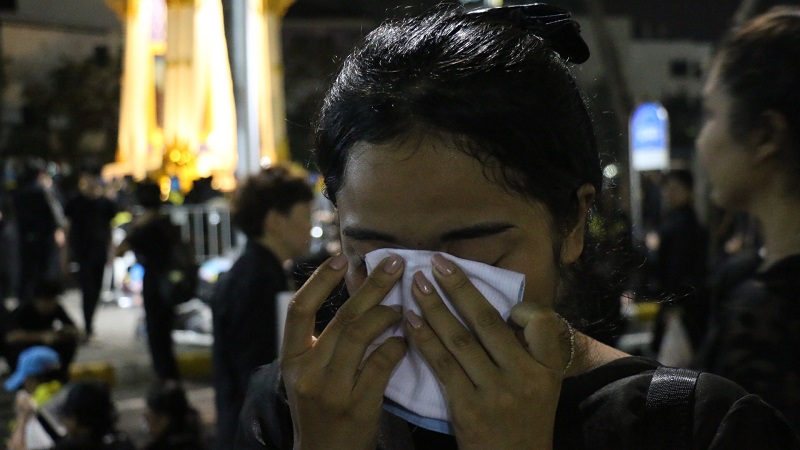 Despite looking visibly agitated, Kanokwan Rattanaphoom said she was not disappointed. The 25-year-old broke into tears after hearing the cremation had happened.
"I came from Satun province, arriving in Bangkok last night," she said wiping tears away. "I slept here in the road last night in the hope of seeing it."
According to another Khaosod reporter, a palace media liaison informed some reporters at about 10pm, when the cremation was scheduled to begin, that it would not be televised because the king's successor, His Majesty the King Rama X, had deigned it a "private affair."
It was at 11:16pm that government spokesman Sansern Kaewkamnerd announced the broadcast and ceremony had ended and coverage would resume in the morning. He did not elaborate on why the actual cremation was not televised.
Ten minutes later, smoke emerged from the top of crematorium, and that was when more people were convinced, despite being so close to where it happened, they had already missed the time they had waited a lifetime to experience.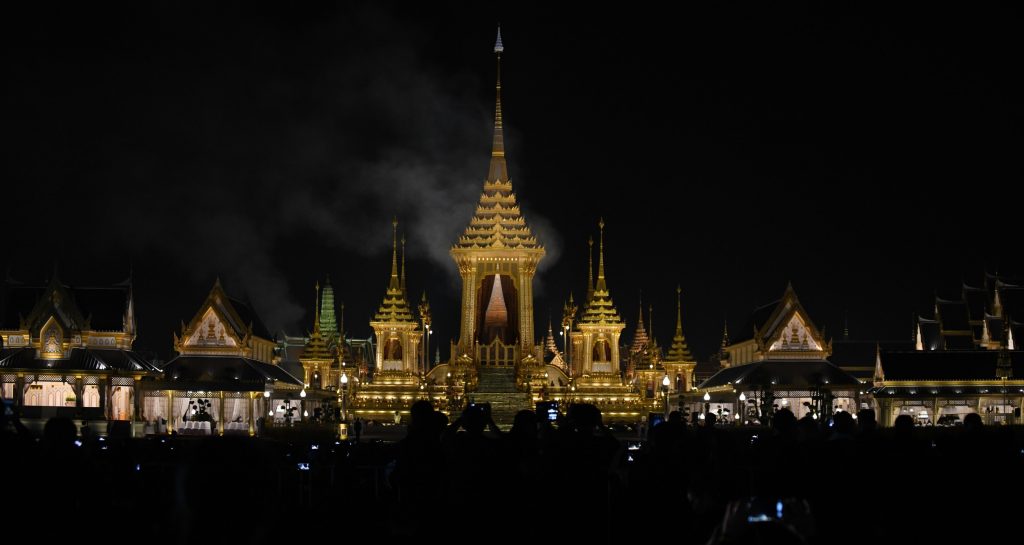 'Mai Pen Rai'
Online, some speculated that it might have been for sake of privacy of the king's wife, Queen Sirikit, who has been ailing and out of the public eye for several years.
Asked why they thought the cremation was done in secret, mourners on the street had different opinions. Most went along with common-sense rationales.
"It's a private ceremony and should be exclusive for royal family members," Kiettisak said. "They tried to appear to be strong for the whole day, now we need to give them some private time."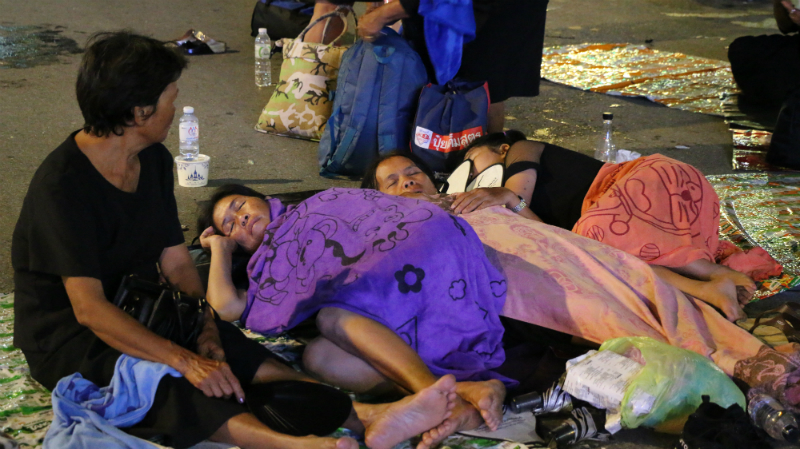 Thai Buddhist traditions regard actual cremation as an exclusive ritual for family members and close friends. Guests are only allowed to attend the symbolic cremation. However, recent royal funerals including those of King Bhumibol's mother and sister allowed the public to witness by televised video.
"They probably didn't want mass grieving to happen," another man said. "It would have been difficult for people to cope if they had seen it."
The confusion wasn't limited to Ratchadamnoen Road but was felt nationwide. On the country's most popular webboard Pantip, many users raised the question of why it was skipped. The common response was the same.
"Don't expect it based on our familiarity," wrote member No. 786797 in the top comment. "We revere King Rama IX as father of the nation, somebody regards him as their own father. But in reality, he is only the father of the four royal highnesses. … Even the actual cremations of commoners are done exclusively for their families."
Some even suggested that expectations to be able to watch it were inappropriate.
"They are very headstrong. I feel sorry for dad," another comment said.
Additional reporting Teeranai Charuvastra