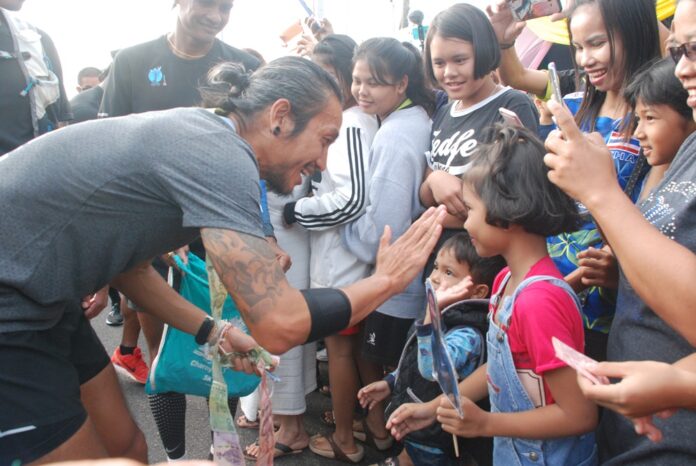 BANGKOK — Rock star philanthropist "Toon Bodyslam," who's charity run has captivated millions nationwide, is due to set foot in the capital Sunday.
At about 3pm, Bodyslam frontman Artiwara "Toon" Kongmalai is set to arrive in the capital from the west via the Pinklao-Nakhornchaisri Road. He will cross the Thonburi Bridge and stop at Phramongkutklao Hospital, one of the beneficiaries of his run, before ending at the King Power duty free mall near Victory Monument. King Power is his largest corporate donor.
On Tuesday he will run from King Power to Siriraj Hospital.
Read: Despite Raft of Sponsors, Public Gives Most to Charity Run
Police will be deployed to escort him through the streets of downtown Bangkok, deputy metro commander Jirapat Phumjit told reporters Thursday.
Artiwara is on a mission to run from Thailand's southernmost point to its northernmost reaches to raise money for 11 public hospitals. He has run more than 1,000 kilometers since he set out earlier this month and raised more than 355 million baht.
It's the second time he's lead a cross-country fundraising campaign. The event has become a national sensation and crowds of spectators have lined along roads to see the rock star.
So many people tried to take selfies with Artiwara that he's twice halted his progress to rest after sustaining injuries organizers blamed on frequent stopping and squatting for photos.
Real-time updates on his progress can be followed online.
Correction: An earlier version of this article incorrectly stated that Toon Bodyslam will arrive on Tuesday. We regret the error.