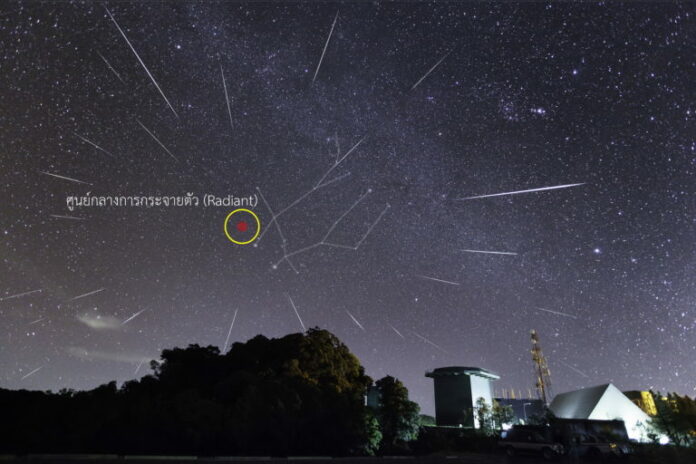 CHIANG MAI — Take a leave of astronomical proportions and drive out to the country to see an annual meteor shower.
The Geminids meteor shower will be visible starting at 8:30pm on Thursday and into the early hours. This year's meteor shower falls on a new moon, so visibility should be higher than usual for the shower, with more than 100 streaking meteors visible hourly.
"All regions of Thailand will be able to observe the Geminids with the naked eye, unimpeded by moonlight. This is a good chance to see a meteor shower almost all through the night," Saran Poshyachinda, director of the National Astronomical Research Institute said Friday.
There's no need for a telescope – the Geminids can be viewed with the naked eye under dark skies away from city light pollution.
The institute is hosting four stargazing spots around the country: Doi Inthanon Mountain, the Regional Observatory for the Public Nakhon Ratchasima in Korat, the Chachoengsao Observatory and at the Golden Mermaid Statue on Samila Beach in Songkhla. For more information check out the institute's Facebook page or call their Chiang Mai headquarters at 053-121-268.
On the night of Dec. 22, the Ursids meteor shower will also fall, averaging about 10 stars per hour.
"December's a good month to send off the year observing all of these stars," Saran said.
The Geminids are a meteor shower that recurs annually in December. Observed since 1862, the meteors appear in Earth's skies to originate from the constellation Gemini, hence the name.