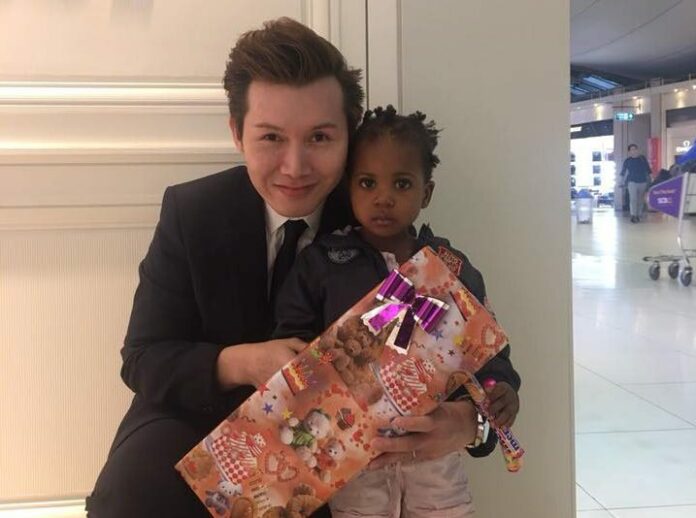 SAMUT PRAKAN — A Zimbabwean family of four are spending the holidays in the departure lounge of Suvarnabhumi International Airport, where they have been living for the past three months.
The family's plight has been winning sympathy online since an airport employee posted a photo with a young girl identified as "Mashia." The image of the employee giving the girl a Christmas present drew an outpouring of appreciation – and concern – since it was posted Tuesday night.
"The little girl Mashia from Zimbabwe has been stuck at the airport with her older brother and family for almost three months now because of instability in their home country," Kanaruj "Artt" Pornspolt wrote in Thai in his post. "They're staying strong. Sometimes they're playful like children are, but they're not naughty or crybabies. I promised to bring her a Christmas present today."
Details of how the family ended up stuck in the airport were not immediately available.
Maj. Gen. Pruettipong Prayoonsiri of the immigration police confirmed the family had been residing at the airport for three months.
"It's just a normal family, they didn't do anything," Pruettipong said Wednesday.
Suvarnabhumi Airport Director Srirote Duangrat could not immediately be reached for comment. Messages sent to Kanaruj went unanswered as of Wednesday.
"Merry Christmas to Mashia, Milan, Eton and Tanaka. To hope all of you back to your sweet home as soon [sic]. Nice to meet all of you guys," Kanaruj wrote in English.
In comments under the viral post, Kanaruj explained that airport staff give snacks, food and other items to the family. He wrote that the family is unable to leave the airport and sleeps on sofas in the departure lounge.
Many comments compared the situation to 2004 film "The Terminal," in which Tom Hanks plays an eastern European man stuck inside New York's John F. Kennedy International Airport.
Most expressed empathy for the unknown circumstances of their situation.
"If they entered Thailand, they would be illegal immigrants, and Thailand would have to deport them back to Zimbabwe. But staying in the airport like this, they can't go back home because of instability. Oh! It feels like torture! And how do they pay for things? Airport prices are really high," Facebooker user Somyod Mall wrote.