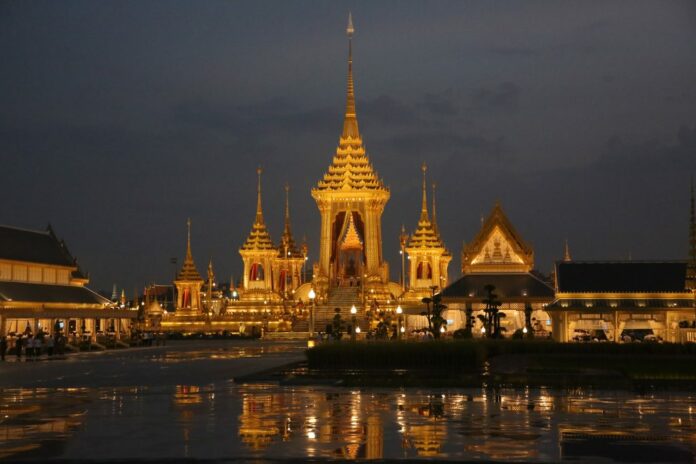 BANGKOK — Though demolition of King Bhumibol's Royal Crematorium will soon begin, a top official today said that parts of the massive complex will be preserved.
Over two months after the Meru Mas, which features traditional craftsmanship unseen for decades, was used to cremate the late king, workers will begin taking it apart Thursday. But Minister of Culture Veera Rojpojanarat said some of the structure would be moved to a museum where it would later be opened to the public.
A facility will be built to display these remnants of the crematorium in Pathum Thani province, which will take about two years to complete, Veera told reporters.
More than 300,000 marigolds decorating the complex will be moved to the Royal Plaza in Bangkok, where a "winter festival" will be held there by order of King Rama X.
Ancient custom requires that that the crematorium be torn down after the royal funeral. Junta chairman Prayuth Chan-ocha is set to preside over a ceremony marking the dismantling of the pyre Thursday. The complex will be entirely demolished by March 15, Veera said.
After King Bhumibol was cremated there Oct. 26, the crematorium was open for public viewing until New Year's Eve. More than 4 million people visited the complex in those two months, officials said.