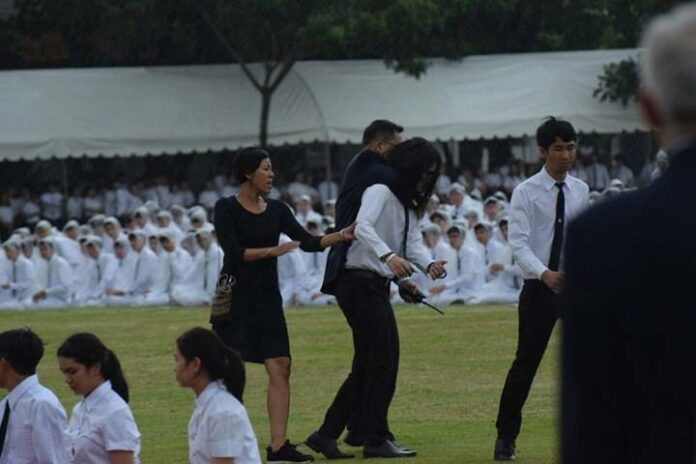 BANGKOK — Seven Nobel laureates signed their names to a petition criticizing the treatment of students who walked out of an initiation ceremony at Thailand's oldest university.
Former Chulalongkorn University student president Netiwit Chotiphatphaisal announced that 25 international academics denounced the school's decision to penalize students for not participating in a freshmen induction ceremony during which they were expected to prostrate to statues of past kings.
The episode became an embarrassment for the university when an agitated professor was filmed putting one of the students into a headlock.
The petition was addressed to university President Bundhit Eua-arporn.
"We see that culture is important but also that freedom of expression within a learning institution is equally important," said the English-language petition addressed to university President Bundhit Eua-arporn. "… It is regrettable that these 8 students have had their behavioral scores deducted, preventing these students from participating in many activities … which diminishes liberty."
Lawrence Lessig, a professor at Harvard Law School, said that the incident was an "embarrassment."
"A university teaches with its words and deeds. This lesson is an embarrassment to the tradition of education everywhere," he wrote in the letter. "Thailand is better than this. Its universities should be as great as its people."
The Nobel laureates who signed on all came from the sciences: Dudley Herschbach (chemistry, 1986), Richard J. Roberts (medicine, 1993), John Mather (physics, 2006), Roy Glauber (physics, 2005), Jerome Isaac Friedman (physics, 2000), Sheldon Lee Glashow (physics, 1979) and Brian Josephson (physics, 1973).
In the wake of the altercation, the university removed Netiwit from his elected position as student body president. Seven of his friends were academically punished by having scores for behavior deducted.
The letter asks the university to reverse the latter decision, something Netiwit said he's petitioned the university to do for months.
"I want citizens worldwide to know about this issue," Netiwit said. "If this kind of thing keeps happening, Thailand's freedoms will be negatively impacted."
Bancha Chalapirom, former university vice president of student affairs, said Tuesday that the school was unaware of the petition. He said that Ruengwit Bunjongrat, the professor who assaulted senior student Supalak Damrongjit, was punished with an unspecified salary deduction.
The other academics to sign the petition largely came from US universities: Gerhard Casper, Grainne de Burca, Herbert C. Kelman, James McGaugh, Erica Chenoweth, Peter McLaren, Philip G. Zimbardo, Sidney Harring, Henry Giroux, Shirley R. Steinberg, Antonia Darder, Chandler Davis, John Braithwaite, Kenneth Saltman, Michael W. Apple, David Graeber, Lawrence Lessig and Diane Ravitch.
Related stories:
Initiation Walkout Costs Netiwit Student Presidency
Chula Investigates Student President Over Initiation Altercation
Chula Retracts Statement Sliming Student, Yet Bad Taste Lingers
Chula Admin Apologizes for Student Put in Chokehold
Chula Professors Tackle Student Trying to Leave Initiation (Video)
Citing Trump and Prayuth, Student Activist Rejects American Invite
Prayuth Unloads on Election of Student Critic to Council
Thorn in the Pillar: Freshman Makes Enemies Upsetting Tradition. Allies Too.