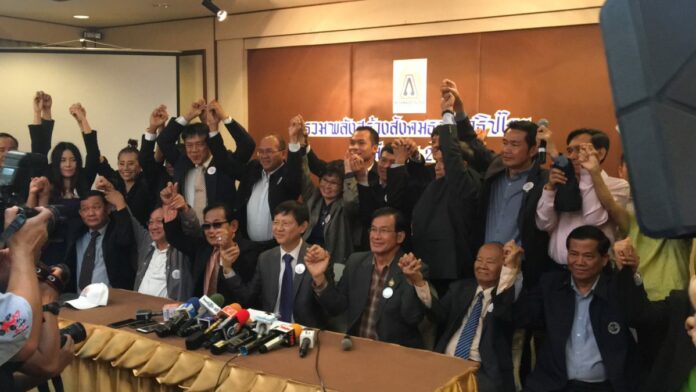 BANGKOK — A defunct political party will be reconstituted to tackle corruption and push for reform, its leaders announced Thursday.
Founders of the New Palang Dharma Party said at a press conference at Bangkok's Asia Hotel that the party is needed as the country has fallen behind in ASEAN and become trapped in political division.
As for whether it would see power returned to civilian hands or support ongoing military rule, the party refused to disclose who it would support becoming the next prime minister.
Read: Billionaire Foe of Thai Old Guard to Lead Progressive Party
Founding member Rawee Maschamadol, a physician and prominent opponent of ousted and fugitive former premier Thaksin Shinawatra, said the party aims to become a political institution and push for genuine reforms such as creating a more equitable society, decentralization of power and building a coalition with like-minded parties.
Rawee was also a former executive member in the now-defunct Palang Dharma Party, to which the New Palang Dharma Party traces its origins and influence.
Rawee, 63, played an active role in bringing down two Shinawatra governments. Most recently in 2013 with the People's Committee for Absolute Democracy With the King as Head of State, or PCAD, aka the People's Democratic Reform Council. Before that, Rawee was once a member of the former People's Alliance for Democracy, the Yellowshirt party which played an instrumental role in opposing both Thaksin Shinawatra and Yingluck Shinawatra.
A few former members of the Palang Dhamma Party have also signed onto its reincarnated version. The party plans to register with the Election Commission tomorrow morning at 8:30am.