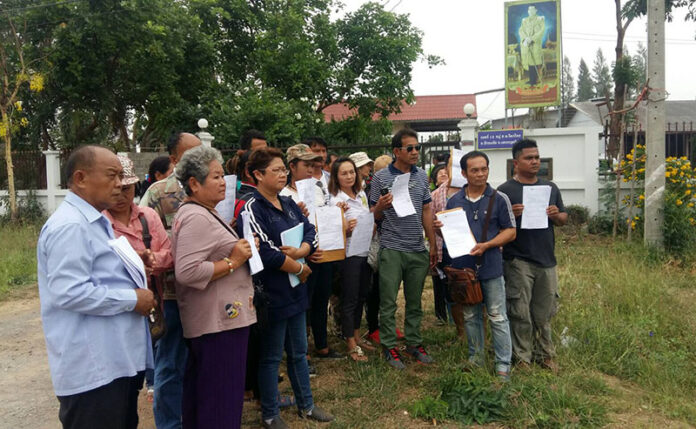 NAKHON RATCHASIMA — Dozens of farmers Monday morning gathered to protest an agricultural company they said recruited them to grow millions of baht worth of sweet potatoes then refused payment.
More than 50 farmers, some carrying produce that has spoiled, protested outside the offices of PP Ten Group in Nakhon Ratchasima province on behalf of about 200 farmers who've allegedly suffered losses of 20 million baht.
"I want my money. I took out loans to pay for this farming project, and I need to pay the workers I hired too. I'm in big trouble." one of the protesting farmers, Sakulwong Sukyhoo, 35, said. "They said they would buy each potato for 4.5 baht, a high price. It seemed like we could grow a lot of potatoes for a lot of money."
The protest was organized by a PP Ten employee who sympathized with the farmers.
"Many are suffering and had to hire extra farm hands to help with this job they took on," company manager Thanchanok Litbamrung said Monday. "I couldn't stand their plight so I had to bring farmers to negotiate with the company today."
Thanchanok said that PP Ten Group officials did come down to talk to the protesters but they have not reached any conclusions yet. "They've repeatedly put off paying the farmers."
Sakulwong, the farm, said she delivered more than 100,000 potatoes to the company over the past two months but did not get the nearly 500,000 baht owed to her.
"They said my documents weren't in order, even months after I submitted them. Other farmers got paid, but had their price docked by 50 percent since the company said their potatoes were rotten," Sakulwong said.
An unidentified representative from PP Ten Group's Nakhon Ratchasima did not dispute the farmers' claims and said the money owed to them "had been prepared." The representative complained the farmers did not come into the office to negotiate civilly, while those who came in to talk got their money.
The farmers said that the company promised to buy all of their produce in cash. The 200 farmers hail from 12 provinces, mostly in the central and northeast regions.
The farmers said that in November, "reputable-looking" company representatives came to their communities to recruit new potato farmers.
The farmers said they asked them to grow Okinawa and Beni Haruka sweet potatoes which fetch high prices on the market. After the farmers grew the potatoes, the company told them they would have to arrange delivery of the produce themselves but would be compensated for fuel expenses.
Upon arriving at the company, the farmers said they only received 1 baht per kilometer traveled, with farmers in Nakhon Ratchasima receiving nothing.