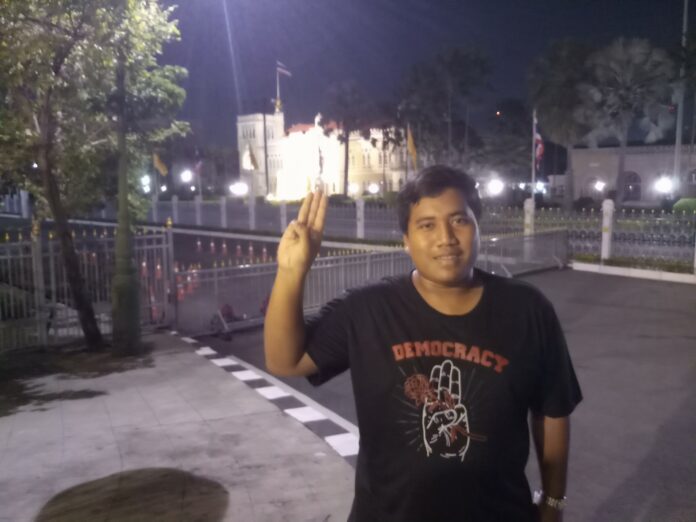 BANGKOK — Left hanging on unfinished business, a pro-democracy activist on Thursday paid a symbolic walk to the Government House to demand the military government step down.
Hours after being granted bail, Sirawith "Ja New" Serithiwat, a leader of the Democracy Restoration Group, marched to the government's seat of power following the group's failed Tuesday attempt which ended abruptly when police blocked and rounded up protesters a few hundred meters from their destination.
On Facebook, Sirawith posted a picture and short video of himself at night in front of the government house raising three fingers – a political gesture adopted from dystopian blockbuster film series "The Hunger Games."
"Can't help it. It's such a short walk from the hospital. One day I'll kick the thief out of the house," the caption read.
He posted about an hour earlier that he was seeing a doctor at Mission Hospital, less than two kilometers from the Government House. Sirawith briefly fainted during the lockdown in front of Thammasat University.
"I just have to make up for it today," he says in the clip. " As we announced that we would be here, today I'm here at the Government House. Just imagine today is the 22nd."
"May the dictatorship fall! Long live democracy! May the NCPO fall! Prayuth get out!" he then chanted toward the building, referring to the National Council for Peace and Order, the junta's formal name.
Thousands of police impeded the Tuesday march, which marked four years of military rule and demanded an election be held within this year. Fifteen protesters were charged with breaching the ban on political assembly, sedition, crime collusion, stealing electricity and traffic law violations.
Related Stories:
Reporter's Notebook: Peaceful Rally Falls Apart in a Heartbeat
Court Grants Bail to Pro-Election Activists
Former Police Chief Backs Jailed Activists as Arrests Slammed
Tense 22 Hours of Tuesday's Thammasat Rally in 22 Photos
Thammasat Won't Charge Protesters Over 'Minor' Damage
Protest Called Off After Police Seize Leaders by Force