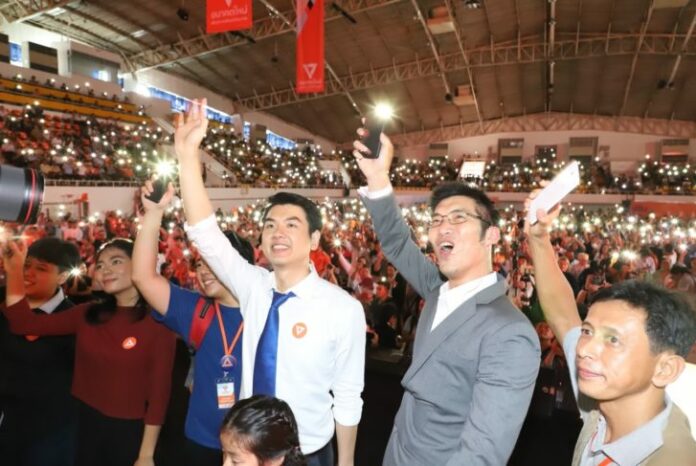 BANGKOK — There is nothing wrong with campaigning on a pledge to rewrite the constitution, the head of the Election Commission said Monday.
A day after the Future Forward Party chose autoparts billionaire Thanatorn Juangroongruangkit to lead the party for which replacing the charter is a central issue, the commission's secretary-general said doing so would violate no regulations.
As police Col. Charungwit Phumma gave his official take on Thanatorn's making it a ballot-box issue – he said it would be up to the voters – the idea was being rapped by the junta's leader and a political rival.
Read: Junta-Written Constitution Must Be Amended: 3 Politicos
Gen. Prayuth Chan-ocha warned that Thanatorn, who has announced he would seek to become the next prime minister, should mindful in what he says.
Future Forward held a meeting Sunday where Thanatorn was selected as its leader and former Thammasat University law lecturer Piyabutr Saengkanokkul named secretary-general.
The party leaders then vowed to draft a new constitution to replace the one rewritten under junta supervision to keep future elected governments subordinate to military authority. They also vowed to grant amnesty to all people who have faced politically motivated charges since the 2014 coup.
Thanatorn was voted party leader by 473 of 474 party members.
Thanathorn formerly served on the board of Matichon Group, the parent company of Khaosod English.
The party also declared its opposition to having an unelected MP become prime minister and vowed not to support any such candidate, no matter which party the person came from. The 2017 constitution diluted the say elected representatives have in selecting the prime minister.
While he has kept a ban in place preventing others from engaging in politics, Prayuth has been busy touring the country racking up political support for his expected bid to remain in power.
A Democrat Party spokeswoman questioned online why Future Forward, a party that has banked its success on promoting representative democracy, would oppose a charter approved through a public referendum.
Mallika Boonmeetrakool also criticized granting amnesty to those charged under the rule of the junta's National Council for Peace and Order as an attempt to absolve the crimes committed by people aligned with his party.
"By proposing amnesty for their side, it shows that the party will lead toward more conflict and division among the people, because they know that issuing legislation to absolve crimes led to a crisis before," Mallika said, referring to a blanket amnesty bill drafted under the former civilian administration in 2013.
Seen as a mechanism to pave the way for Thaksin Shinawatra to return to Thailand, the amnesty bill provoked a fierce backlash, drew thousands into the streets and ultimately drove Yingluck Shinawatra from power, opening the door to the May 2014 coup d'etat.
Related stories:
First Look at Major Changes to the New Thai Constitution
Before and After: Read the 5 Articles Rewritten After Thai Constitution Was Approved