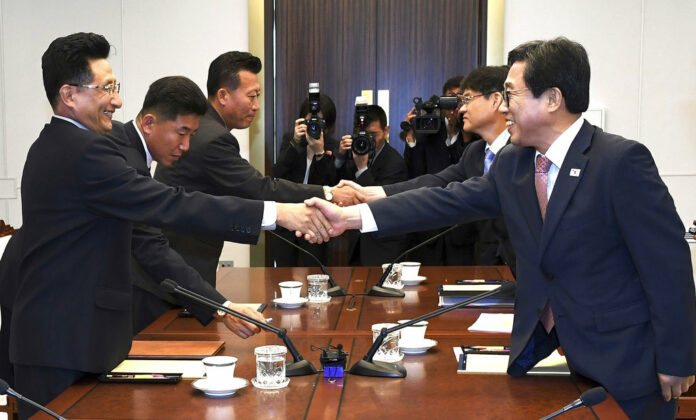 SEOUL — Sports officials from the rival Koreas met at a border village on Monday to discuss how to cooperate in the Asian Games being held in Indonesia in August.
A flurry of inter-Korean talks are underway after last week's landmark summit between U.S. President Donald Trump and North Korean leader Kim Jong Un extended a temporary detente on the Korean Peninsula.
Monday's talks at the Panmunjom village were to focus on whether to conduct a joint march and field joint teams in certain events in the Asian Games, according to South Korea's Sports Ministry.
Holding friendly inter-Korean basketball matches — which Kim proposed during a meeting with South Korean President Moon Jae-in in April — was also on the agenda at the talks, ministry spokesman Hwang Seong Un said.
The two Koreas plan to hold a series of talks in the coming days to discuss resuming reunions of families divided by the 1950-53 Korean War; reconnecting severed cross-border railway and road connections; and establishing a liaison office in the North. Generals of the Koreas met last Thursday and agreed to restore military hotline communication channels.
During their summit last week, Kim reaffirmed his vague commitment to work toward the "complete denuclearization of the Korean Peninsula," while Trump promised to provide security guarantees to North Korea and suspend joint military drills with the South as long as negotiations with the North continue in "good faith."
Trump has credited the summit deal with saving tens of millions of people from nuclear war. But many in South Korea and the United States have criticized him for giving too many concessions to North Korea without winning any meaningful disarmament pledges from the country.
The ongoing detente began in January when Kim expressed his intentions of sending a delegation to the Winter Olympics in South Korea the following month. The Koreas eventually formed their first joint Olympic team in women's hockey and had their athletes paraded together during the opening ceremony for the first time in 11 years.