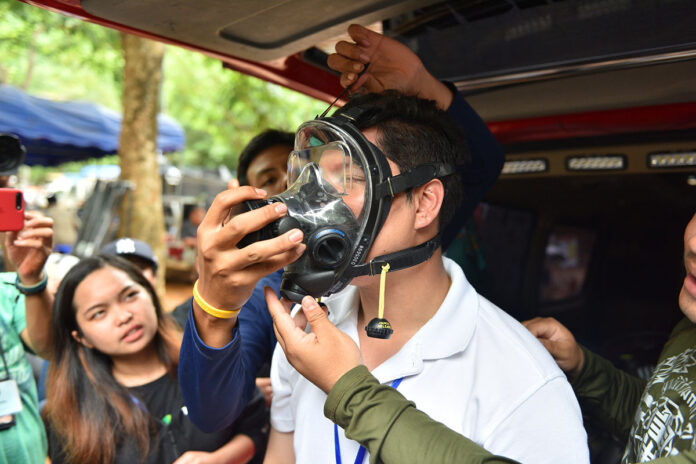 CHIANG RAI — Rescue officials on Tuesday put out a call for special small-sized diving masks to rescue 12 boys and their coach who have been trapped in a cave for 10 days.
Emergency teams – working to rescue 12 boys and their football coach stuck in Tham Luang Nang Non for a tenth day – said they may either use a less flooded cave route or extract the boys by making them dive.
"With this type of mask, you can just put it on and breathe. You don't need to know how to dive. It connects right to the oxygen tank." Supanat Titikarn, from Ruam Katanyu Rescue Foundation, said as he held up a full-face mask. "I want to bring this to the boys and have them try it out first."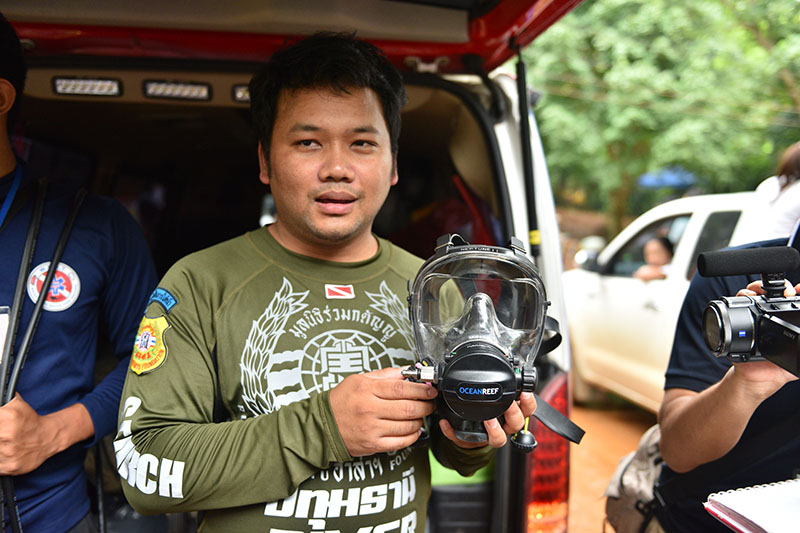 Supanat said his team needs about 15 small-sized ones, as those he has are too large and would only fit the 25-year-old coach. Regular diving equipment – in which the diver bites down on a mouthpiece – is deemed too dangerous for the children, he said.
Supanat added that the small-sized one cost about ฿25,000 to ฿30,000 each and that the Navy SEAL unit is putting out a call for donations of masks.
"We're in the middle of several plans right now to rescue them, including bringing in diving equipment to the 13 Wild Boars to teach them basic diving," Rear Adm. Apaporn Yuukongkaew of the SEALs said, referring to the name of the team.
Rescue officials are also surveying surrounding areas in an effort to direct flowing water away from flooding the cave, said Jongklai Worapongsathorn, deputy director of the national parks department. A SEAL unit is surveying whether extraction is possible through a route with less stalactites, stalagmites and flooded water.
Apaporn also thanked the public for their support.
"Please be confident that we SEALs can rescue all of the boys. Thanks for encouraging us and calling us heroes," the rear admiral said.