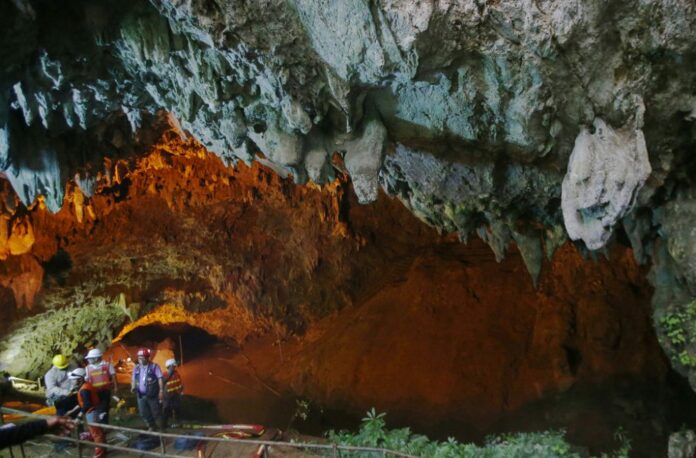 CHIANG RAI — The cave complex where a massive 17-day rescue effort captivated the world will be turned into a museum, the head of the operation announced Wednesday.
Speaking at the final news conference of the epic rescue, Narongsak Osottanakorn said the cave will tell the story of the operation he said was only possible because of help from around the world.
"The most important thing is unity. Not only in Chiang Rai, Thailand, but from abroad as well," Narongsak said. "It was beyond a rescue operation. It broke down language and religion barriers for everyone to achieve this one goal together."
All 12 young footballers and their coach were extracted from the Luang cave by Tuesday. They are being quarantined at a top hospital in Chiang Rai and are said to be in good health.
Narongsak detailed his plan for what would become of the cave complex, which straddles along the mountain of Khun Nam Nang Non.
"We will also collect all equipment used in this operation. We will open this space as an attraction, a living museum," he said. "It's been suggested that we might display photos during the 17 days of the mission, including clothes that the foreman in each operation wore on that day."
"It's going to be a highlight of Thailand. I believe it will attract many visitors. It will become a learning center for children and divers from all around the world," he added.
Narongsak said officials have kept contact information of rescue workers and experts who participated in the operation in case their help might be needed in future calamities.
"There are about 25 percent foreign divers in the whole team," he said. "We will create a database about who they are, what they do and where they're from just to be prepared. If there's a similar situation happen in the future, we will know where exactly are these valuable sources of this world."
The cave complex and the surrounding national park will be rehabilitated, the official said, adding that the public should not blame the boys for their misadventure to the cave.
"We're not seeing the boys as heroes or villains," Narongsak said. "This is an accident beyond any prevention. They went in there out of fun as children do, and the water came so they couldn't come out."
"When they grow up they will learn that there are millions of people watching them. I believe they will grow to become a valuable citizen of Thai society, because everyone knows them. I believe they will pay back to the society as we've helped them greatly today," he continued.
Leading the rescue in the final days were foreign and Thai divers, including Richard Harris, an Australian doctor and cave diver. Harris' father died last night – just as he was emerging from the cave after hours-long dive with the boys.
In today's news conference, Narongsak offered his "deepest condolences" to Harris for his loss.