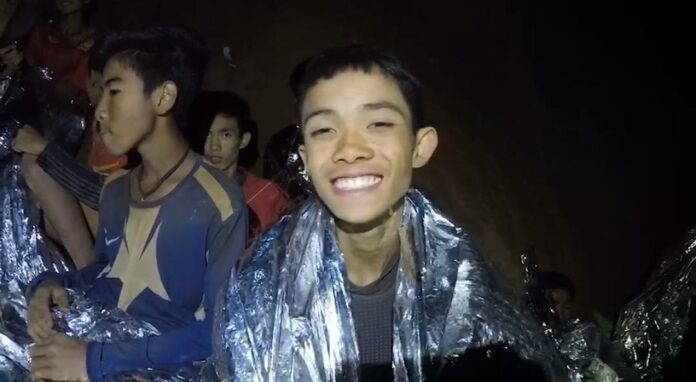 CHIANG RAI — Football practice had ended when Dom and his teammates followed their coach into the Luang Cave. They had planned to stay only an hour, so he didn't bring many snacks in his backpack.
Sudden rains fell, and floodwaters rushed into the cave. Everyone ran deeper inside, scrambling to pull the clear mud and rocks around a hole the coach found in the cave so they could escape.
While the massive rescue effort that ensued has been well documented from outside the cave, the first-person account of Duangpetch "Dom" Promtep, 13, one of the boys stuck in the Tham Luang Nang Non cave complex for 17 days, is the first to emerge as recounted by his father.
Banphot Konkum, 45, described how his son became trapped June 23 and survived in the dark deep until an international, weeks-long rescue effort pulled him out.
"They didn't have any sense of time in there. They chatted a bit to relieve stress," the father said. "On the day the British divers found them, the Wild Boars were actually higher up than they were in the clip but they ran down so they could shout for help," Banphot said Thursday.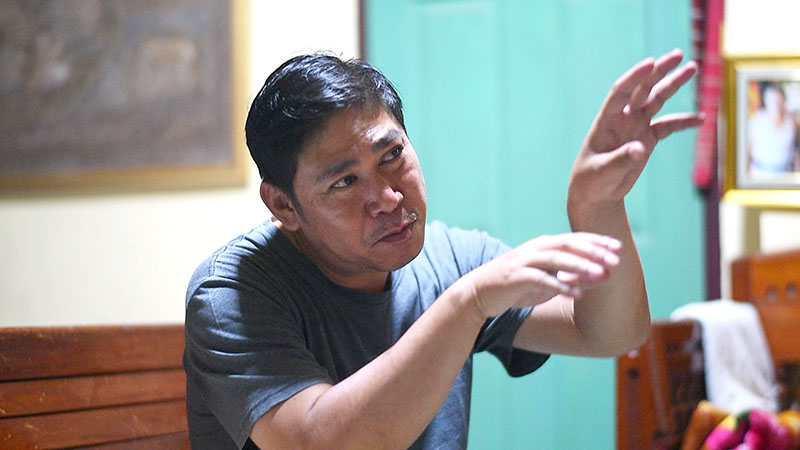 Family members are allowed to visit the boys now safely recovering in an isolation ward at a provincial hospital but must wear protection suits and stay two meters away.
Dom said that in the cave, 25-year-old coach Ekkapol "Ek" Chantawong told everyone to lay still and conserve their energy. Anyone thirsty would shine their flashlight up to find sources of dripping water.
One week ago on July 6, divers brought out letters from the boys. Dom's was among them.
"I'm alright, just that the weather may be a little bit too cold, but don't worry," he wrote. "Don't forget my birthday party."
Kum-aey Promtep, Dom's grandmother, said that she was planning to ordain Dom as a novice monk to make merit for Lt. Saman Kunan, the Navy SEAL who died rescuing the boys.
"I'm so sad. I hope you rest in peace. I'm so sorry for your family. Thank you for sacrificing yourself for him," Kum-aey said. "I'll teach him to be a good kid and to be brave. The entire world came to help us, so we have a debt to pay. How will we repay all those people, the SEALs, the water pumpers, the reporters, if we aren't good people?"
Banphot added that since his son's birthday just passed on July 3, his family would hold a surprise party to make up for it – with some extra treats provided as well.
"He's getting stronger. He had lost 3 kilograms to 4 kilograms but has regained a kilo now. I'm relieved," Banphot said. "He's been saying he wants to eat barbeque pork and noodles. He's also asking me for a new mobile phone since his he dropped his old one in the cave," Banphot said.