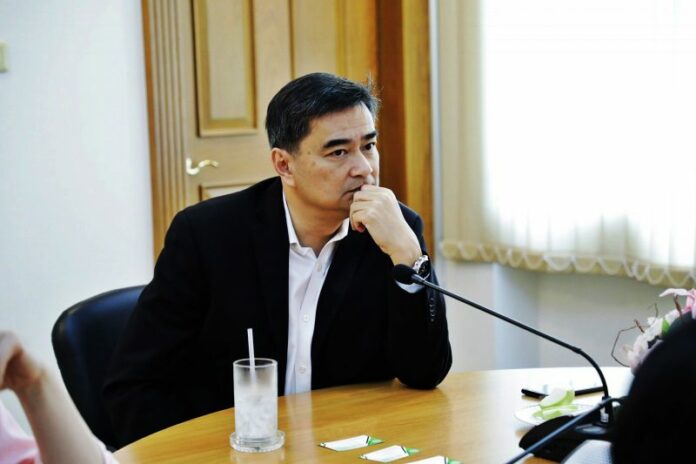 BANGKOK — Democrat Party leader Abhisit Vejjajiva said some of his former MPs are being lured to a new party by promises of money, prestige and legal assistance with  criminal charges they face.
Abhisit, who was prime minister from 2008 to 2011, said Monday that the promise of prosecutorial relief as an incentive to entice some former MPs would be a troubling brand of politics.
"I am troubled by the talk that party members defecting in exchange of benefits is normal for politics, because we should be saying, 'Cease this kind of politics,'" Abhisit said. "Society should reject this kind of politics."
He did not elaborate on the number of former Democrat MPs being targeted or which new parties were responsible.
Junta leader Prayuth Chan-ocha has been traveling the nation shoring up support in outlying regions, holding campaign-style rallies with local politicians. Although he's expected to seek to remain in power following the next election, he denies that he is campaigning.
His critics say he is creating an uneven playing field by leaving a ban in place preventing anyone else from engaging in politicking.
A number of Democrats still face charges including including treason and terrorism for participating in the street protests which led to the ouster of the elected government and 2014 coup.
Abhisit said politicos are free to swap teams but may not be easily swayed.
"People at the party are being targeted," 53-year-old Abhisit said. "I think that if they are clear in their stances and steadfast in their ideology, they will remain. … We can't forbid them."
It's been months now since some newly founded parties signaled their support for Prayuth, who made himself prime minister, to remain in power.
In a related development, more than a dozen local politicians from various parties greeted Prayuth on Monday at the Ubon Ratchathani Zoo as he began a visit to the province. Among them were Wuthipong Nambutr, a former Democrat representing Ubon, and Suphon Fong-ngam, a local former Pheu Thai rep.
Prayuth today defended the meet-and-greet encounter, saying he did not know any of them personally.
Prayuth is holding a cabinet meeting today at Ubon Ratchathani University.