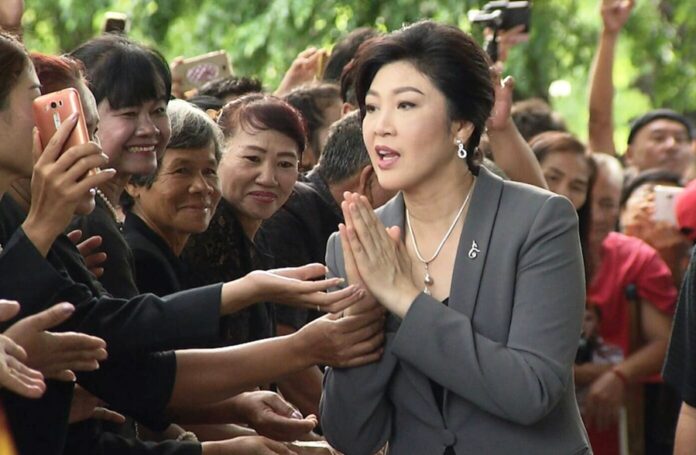 BANGKOK — Thailand is seeking the extradition from the United Kingdom of former Prime Minister Yingluck Shinawatra, who fled last year ahead of a conviction on a charge of negligence in overseeing a money-losing rice subsidy program, the current prime minister said Tuesday.
Prime Minister Prayuth Chan-ocha confirmed the news to journalists when asked about a report by the Thai-language service of the BBC that an official request had been given to the British government. He and Thai Foreign Minister Don Pramudwinai both described the action as a standard procedure that went through legal channels, rather than a political matter.
Yingluck was sentenced in absentia to five years in prison. Her government was ousted in a 2014 military coup led by Prayuth, who was then army commander.
Yingluck's conviction had been widely expected, as the military remains firmly in charge and the courts have a record of antipathy toward her politically influential family. She and her supporters contended she was innocent and called the charges against her politically motivated.
The Crown Prosecution Service in London, replying to an inquiry by The Associated Press, said it neither confirms nor denies extradition requests until a person has been arrested.
Courts in Western countries are very unlikely to extradite in cases that are determined to be political in nature. If the object of the request objects, the extradition process will normally go through the courts, a procedure that can sometimes take years.
Yingluck's brother Thaksin Shinawatra, a telecommunications tycoon, was prime minister in 2001-2006. He was also ousted in a military coup amid accusations of corruption and alleged disrespect for the monarchy, which he long has denied. He likewise was sentenced to prison by a Thai court that found him guilty on a conflict of interest charge, insisted that the case against him was politically motivated and fled abroad. He maintains residences in England and Dubai.
Prayuth told reporters that ultimately, if Thailand has followed the law in making Yingluck's extradition request, it remains "a matter for foreign countries to decide whether or not they want to send them back."