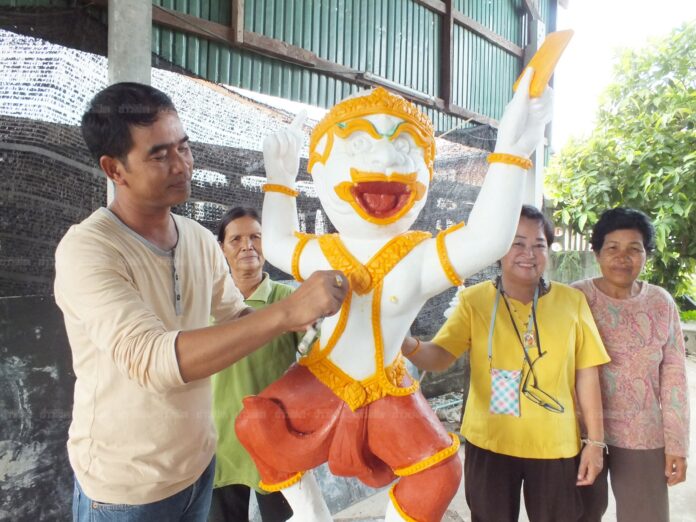 BANGKOK — As the junta backs efforts to rewrite laws, overturn norms and stack the deck with loyalists, whispers that it could attempt to subvert next election are growing louder.
The man tasked with ensuring a credible election is playing down concerns Friday that the next general election could see his body involved in manipulating the vote in favor of junta leader Gen. Prayuth Chan-ocha, who seems intent on remaining in power.
"The Election Commission will act independently. We won't stray and we can be sued," said police Col. Jarungvith Phumma, who became secretary general of the Election Commission after his predecessor was fired by the junta leader.
His assurances come as politicos and critics raise concerns the commission's independence may be compromised after four years of military rule. Most do so only privately to cite developments such as the dismissal of all commission members, the firing of its outspoken former chairman and a bid to select voting inspectors by junta-appointed lawmakers.
Read: Lawmaker Signals Retreat Over Election Challenge
The only time the public has cast a ballot in over four years was far from a healthy democratic exercise. For the August 2016 referendum on the new junta-backed constitution, campaigning against it was criminalized,virtually no monitors were allowed to observe and an unusual vote-tallying system was put in place.
Junta opponent and Redshirt leader Thida Thavornsaet Tojirakarn on Friday joined those publicly and privately expressing fear the vote may not be valid.
"It's definitely possible," Thida said, adding that her movement will deploy observers to look for irregularities with bogus voters, tallies or trashed ballots. But she said it's impossible to get people to monitor all of the 90,000-plus polling stations nationwide.
Methods of election rigging expressed by those concerned include false vote counting at polling stations, ghost voters and tampering with the electronic process of aggregating the final vote count. A senior member of a new, prominent political party who spoke on condition of anonymity said Tuesday he fears that election will be far from fair under the military regime.
But Pongsak Chanon, the Thai coordinator for the Bangkok-based Asian Network for Free Elections, or Anfrel, said it's hard to cheat systematically due to the proliferation of smartphones and cameras.
Pongsak said he does fear there won't be enough independent election observers. He would not say how many Anfrel plans to dispatch for the promised elections next year but admits that Anfrel lacks the money and manpower to do the job properly.
The fear people have, Pongsak said, is due to an abnormal situation in which the junta holds absolute power.
"We need even more scrutiny in abnormal times. But can it be done? It affects people's confidence," Pongsak said, adding the upcoming elections' fairness is already in doubt because of the junta's ongoing ban on political activities.
Sharing the same sentiment that easy video images captured on smartphones will deter substantive cheating is Gothom Araya, a former elections commissioner. Despite the perceived imperfections of the commission, Gothom doesn't believe it would dare to be in cahoots with the powers that be because it's risky and would have to involve many people.
He added however that it also depends on how alert the public is in trying to monitor the elections.
"If there will be cheating by the EC, it won't be centralized. I don't think the EC at its central office would take the risk," Gothom said.
Another former election commissioner, Somchai Sritthiyakorn, who was removed in March by junta leader Gen. Prayuth Chan-ocha's use of absolute power, said he would not rule out rigging in far-flung rural areas. Still, he doesn't believe the commission would be foolish enough to be involved in wide-scale electoral fraud.
He added that doubts persist because the junta has been interfering with the body, which includes the fact that he has been ousted and the current commission not allowed to serve out their terms. Their replacements must all be confirmed by the junta-appointed National Legislative Assembly.
"Cheating inside polling booths means all EC staff in the polling station must be in cahoots. There are representatives of various parties who can monitor," Somchai said.
Somchai said those who doubt the tallies can examine the records of vote counts if they petition the court. The former commissioner warns the new commission, which has yet to be installed, should not think of collaborating with anyone to cheat, however.
"I don't believe the EC will rig the elections. I used to say that on Election Day, the EC must forget all debts of gratitude. If you take sides and you are found guilty after scrutiny, you will go to prison… It's not worth it," said Somchai, who is currently dean of the Institute of Political Science and Law at Walailak University.