SUPER TYPHOON MANGKHUT

Super Typhoon Mangkhut, now with max winds of 160 mph, has a very well defined 30 mile wide eye. Mangkhut is north of Yap and west of the Marianas moving westward at 14 mph. STY Mangkhut will likely strengthen just a little bit more before slowly weakening late in the week and over the weekend. The current forecast track takes it just a little bit north of Luzon on Saturday. High surf and hazardous sea conditions will persist across Western Micronesia a couple more days, and across the Marianas for another day or so.

Posted by US National Weather Service Guam on Tuesday, 11 September 2018
BANGKOK — Two tropical storms – mild and strong – will gain strength tomorrow through next week, bringing rains and possible flooding, meteorologists said Wednesday.
While tropical storm Barijat is expected to bring mild rains to Thailand through Friday, super typhoon Mangkhut will be stronger as it barrels into mainland China.
"Barijat will have the same route as that last storm, Bebinca, but with weaker strength. So expect what you had then, but with less rain," Seree Supratid, director of the Climate Change & Disaster Center at Rangsit University said by phone Wednesday, referring to a mid-August storm.
He said Mangkhut, however, is the one to watch out for.
"The second one is scarier. It is a super typhoon. We are not sure where it will go after it picks up strength over water. If it goes into Southern China, over Guangdong, we will definitely be impacted."
Seree said residents should continually check updates about Mangkhut. In Bangkok, expect a 70 percent chance of rain through Tuesday.
Tropical storm Barijat will move across Hong Kong and Hainan Thursday through Friday, reaching mainland China by Sunday. Its approach will give strength to the southwest monsoon, resulting in nationwide rains especially along the Andaman Sea and the Gulf coast.
Super typhoon Mangkhut is expected to bring rains to Thailand through Tuesday, as it moves over Luzon in the Philippines and Taiwan from Friday through Saturday, and then into China through Tuesday. The state meteorological department warned people to stay alert of flash floods and mudslides.
Meteorological and environment experts said Bangkok is unlikely to be impacted by waterworks-related flooding, but warned floods are still possible if Thailand is hit by extreme weather.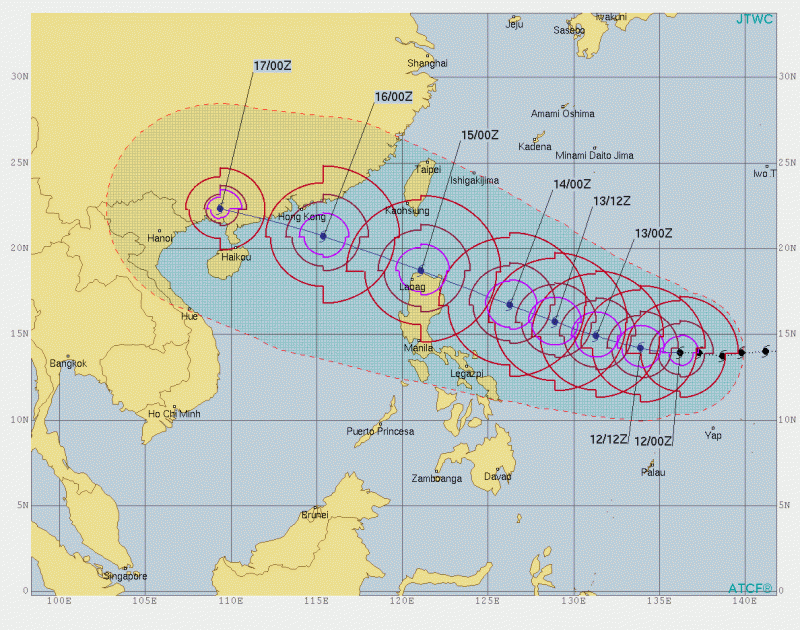 Related stories:
2018 Won't be 2011 For Bangkok Flooding: Experts