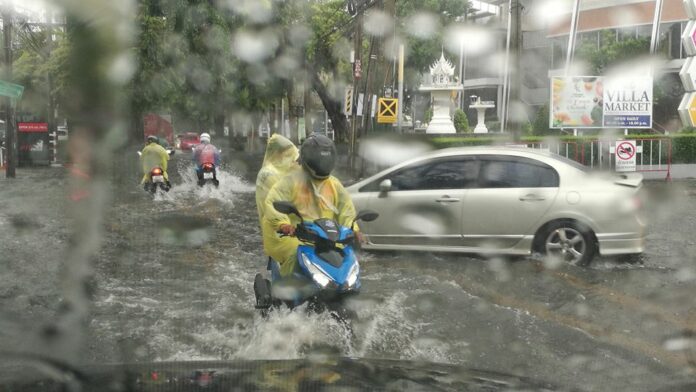 BANGKOK — Get ready for a week of thunderstorm sound and fury as heavy storms soak the kingdom.
Heavy rain Monday morning was exacerbating the traffic havoc in the capital, with seasonal southwestern monsoons expected nationwide through at least Wednesday, according to state meteorologists. The rain is expected to intensify in the north and northeastern regions Thursday through Saturday.
The silver lining to all the clouds is that Thailand looks likely to escape a typhoon barreling across the Pacific that now appears set to hit Taiwan.
In Bangkok, rain is expected over most areas through Saturday, with a slight midweek dip down to 40 percent rainfall Wednesday and Thursday.
As of Monday morning, #Rain was trending on Twitter among the usual top hashtags concerning TV series. Commuters took to social media to report flooded roads in areas including the K Village mall just off Rama IV Road in the Khlong Toei district.
@js100radio #รามคำแหง ของเก่ายังไม่แห้ง ของใหม่ จะเข้ามาอีกแล้ว ฟ้าร้องครืนๆ #ฝนตก pic.twitter.com/qgMRPyUyQc

— taechin (@Sony1678Sri) September 24, 2018
ระบบ ระบายน้ำ 10 10 10 #ฝนตก pic.twitter.com/YfrU1DTcY4

— บัวว บาลู 🚀 (@Bluexblueeee) September 24, 2018
An animated map showing when and where rains are expected throughout the week.
On the sunny side, Typhoon Trami is set to ravage Taiwan on Friday without hitting Thailand – but Thai travelers to the island, as well as Japan, should take note.
"It won't impact Thailand at all. Trami's trajectory is to move north after going by Taiwan, toward Japan at the end of this month," said Seree Supratid, director of Rangsit University's Climate Change & Disaster Center.
The trajectory of Typhoon Trami.
Related stories:
Thailand to Feel Tropical Storm Mangkhut's Side Effects: Officials