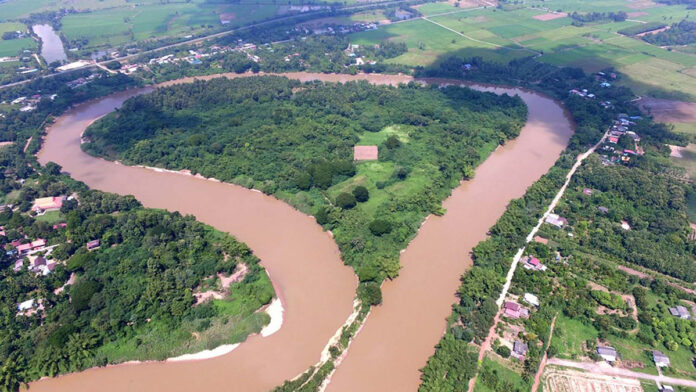 PHITSANULOK — Spread your arms across the narrowest spit of land separating the Nan River from itself, where residents and tourists were flocking Tuesday to take photos.
A narrow strip of land where a river meander folds back onto itself, eroded down to only several meters, has become a photogenic spot for visitors in the central province of Phitsanulok.
Since Monday, residents have been taking pictures on the narrow neck, often posing with outstretched arms, after people noticed that erosion had created a tiny, steep isthmus.
The Wang Nam Khu bend is 26 kilometers from Phitsanulok City, a 30-minute drive along the Phitsanulok-Bang Krathum Road in the Wang Nam Khu subdistrict. Park just outside the Wang Nam Khu Public Health Center and walk 200 meters toward the river to arrive at the location.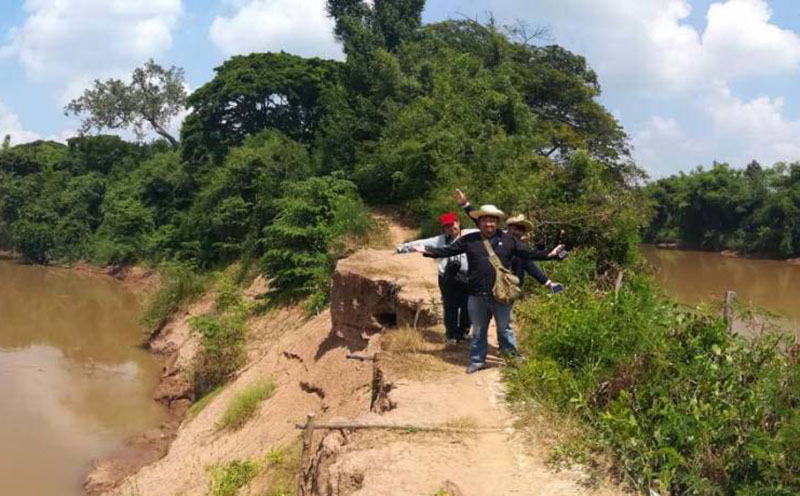 People standing on the meter-wide neck can face 180 rai (28.8 hectares) of heart-shaped forest. Visitors should be wary of steep banks on both sides.
Those who delight in geological wonders should hurry – erosion will eventually cut through the neck, forming an oxbow lake similar to Bangkok's lush Bang Krachao area.
Wang Nam Khu residents say that the strength of the river's flow is seasonal. During severe flooding of 2011, the river temporarily breached.