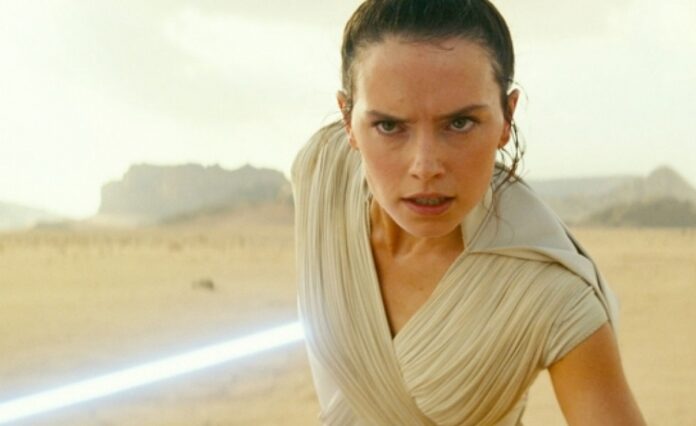 CORUSCANT — If you can't wait until December 2019 for the ninth and final episode of Star Wars (or so they say), events this Star Wars Day on May the 4th might help time pass at lightspeed.
Whether you want to sit back and watch Leia and Han Solo's galactic romance, or wiggle your butt like you're Jabba the Hutt, here are some events that will suit everyone from cosplaying devotees to young padawans.
"Star Wars:The Rise of Skywalker" enters Thai theaters on Dec. 18.
1
Classic trilogy and Cosplay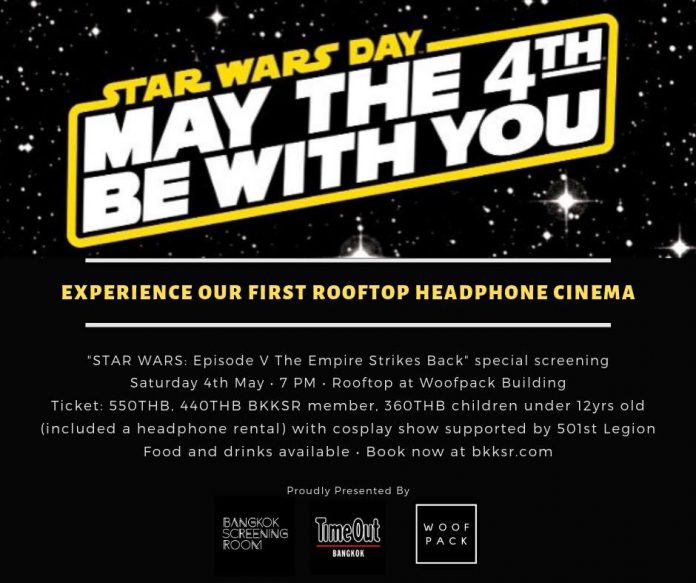 Bask in the glory of the original trilogy while posing with stormtroopers at indie cinema Bangkok Screening Room.
"I think these are the best three, and many people would say so," Bangkok Screening Room co-founder Sarinya Manamuti said, when asked why the prequel trilogies aren't being screened.
For the theater's Star Wars weekend, the cinema will screen "A New Hope" at 8:30pm Friday May 3, "The Empire Strikes Back" at 4pm Saturday May 4, and "Return of the Jedi" at 4pm Sunday May 5.
Tickets cost 300 baht for adults, 250 baht for students and 200 baht for children. Each screening will seat 300 people.
But that's not all – on Saturday, Sarinya and co-founder Nicholas Hudson-Ellis are having a second screening of "Empire" on the cinema's rooftop at 7pm with wireless headphones. In attendance will be Thai members of the 501st Legion, an international society of stormtrooper and Star Wars villain cosplayers.
Tickets for the rooftop screening are 550 baht for adults and 360 baht for children. Food and drinks will be available.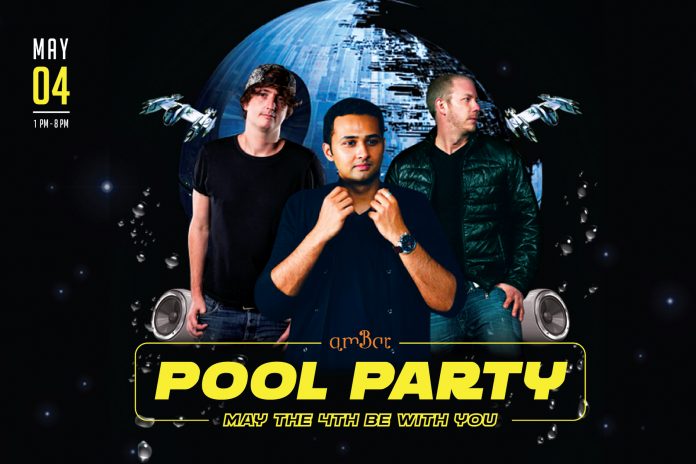 Watching movies too nerdy for you? A pool party with wet, electro beats more your speed?
A Star Wars-themed pool party, "May the 4th Be With You", will be held from 2pm to 8pm at amBar on May 4. Head to the 8th floor pool of the Four Points by Sheraton Bangkok, located in Sukhumvit Soi 15.
Attendants are free to dress up in Star Wars-themed costumes or swimsuits. DJs Jules Blons, Aneesh Medina and Rescue will be spinning techno beep-boops.
Tickets are 300 baht per person or 250 baht for early bird tickets. Tickets include one drink. Ladies enter free before 3pm and enjoy free-floating beer for an hour.
Related stories:
Police Explain 'Stormtrooper Suspect'