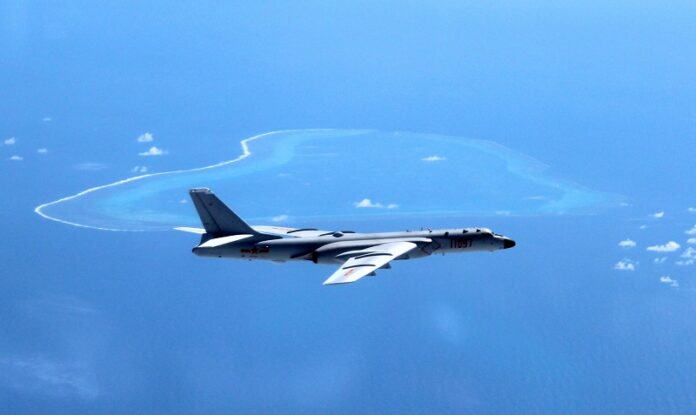 VIENTIANE — Southeast Asian leaders are likely to avoid any official mention at a summit this week of an arbitration ruling that shot down China's expansive territorial claims in the South China Sea, according to a draft of their final declaration, in a victory for Beijing's diplomatic clout.
But the draft also expresses strongly stated concern about Beijing's construction of man-made islands in the South China Sea, which Southeast Asian countries fear could destabilize the region.
The draft, obtained Monday by The Associated Press, is being fine-tuned by officials for the leaders to approve ahead of the summit of the Association of Southeast Asian Nations that begins Tuesday in the Laotian capital. The final version is to be released Thursday, but most major points including those concerning the South China Sea are expected to remain largely unchanged.
Officials say Philippine President Rodrigo Duterte also plans to ask China's premier at a meeting between ASEAN and other regional leaders whether China is trying to develop another disputed reef, Scarborough Shoal, off his country's northwestern coast.
Duterte said last week that the Philippine coast guard has sighted Chinese barges at Scarborough, which he said could presage the transformation of the Chinese-held reef into another man-made island. One of the Chinese vessels had what appeared to be a crane, according to a Philippine official who did not want to be identified because he was not authorized to discuss classified intelligence.
The Philippine government asked China's ambassador in Manila about the sighting of the Chinese barges, but the envoy denied any island building was under way, the official said.
China sparked widespread alarm when it converted seven reefs in the Spratly Islands into islands that the United States says could be transformed into military bases to reinforce Beijing's territorial claims and intimidate rival claimant countries.
"We remain seriously concerned over recent and ongoing developments and took note of the concerns expressed by some leaders on the land reclamations and escalation of activities in the area," the draft of the ASEAN leaders' statement says. The reclamation and other acts "have eroded trust and confidence, increased tensions and may undermine peace, security and stability in the region."
Duterte has taken a more conciliatory stance than his predecessor toward China. But a confirmation of Chinese reclamation activities at Scarborough Shoal, a rich fishing ground where Filipino fishermen have been forced away by Beijing's coast guard, could impede relations.
U.S. officials have also expressed deep concern over the possibility of China developing Scarborough into an island or starting to erect concrete structures there, which could reinforce Beijing's control over a swathe of the South China Sea.
Aside from China and the Philippines, Vietnam, Taiwan, Brunei and Malaysia have been contesting all or parts of the strategic waterway, an important route for commerce and oil that fuel Asia's economies.
After China seized Scarborough following a tense 2012 maritime standoff, the Philippines took its territorial dispute with China to international arbitration, a move that was condemned by Beijing, which prefers one-on-one negotiations to prevent the United States and its allies from meddling.
In a landmark ruling in July, the arbitration tribunal invalidated China's expansive claims, including in areas where Beijing built its islands, and admonished China for blocking Filipino fishermen at Scarborough, where it said both Chinese and Filipinos could fish.
China condemned the ruling as a sham and moved to prevent it from being recognized in ASEAN communiques, something that its close ally, Cambodia, has backed in meetings of the 10-nation bloc, which operates by consensus.
Story: Jim Gomez