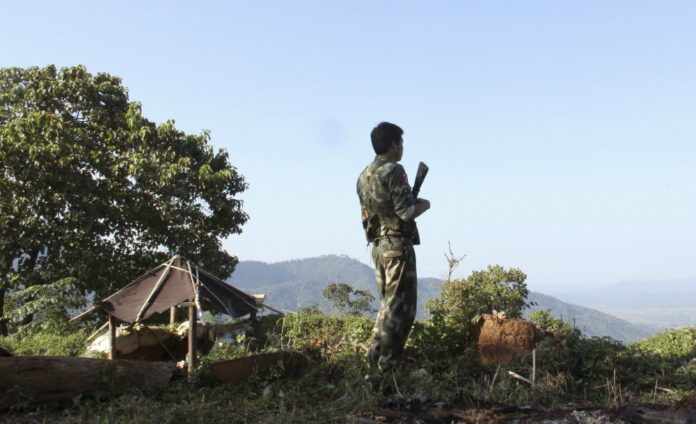 LAIZA, Myanmar — Ethnic Kachin rebels long at war with Myanmar troops say the government has only escalated fighting since Aung San Suu Kyi took over as leader, crushing the hopes that had led many ethnic minorities to support her party and leaving them with no confidence in the peace process that Suu Kyi has identified as a priority.
Rebels and observers say government offensives including airstrikes have increased since Suu Kyi and her National League for Democracy party took control in March. Suu Kyi's government has said little about the attacks, and the Kachin Independence Organization accuses her of cooperating with the military.
"Suu Kyi tried so hard to gain this power for many years and she needs to make deals with the military in order to sustain her power," said La Nan, the chief spokesman of the KIO.
Rebels say they have been hit with airstrikes in areas of northern Shan and Kachin states including Mongo, a Shan town that was heavily bombed and suffered an unknown number of civilian casualties. Other fighting has occurred in Hpakant, center of Myanmar's lucrative jade-mining region, and Laiza, headquarters of the KIO.
Suu Kyi, who serves as state counselor and foreign minister but effectively rules Myanmar, faces high expectations from ethnic groups and the international community. As opposition leader, the Nobel Peace laureate was held under house arrest by the former junta for years, but her landslide election victory in November 2015 ended more than half a century of military control.
Though she has called the peace process her top priority, many local and international political analysts do not see significant achievements since the NLD came to power, and say she has failed to cooperate enough with ethnic leaders.
"National reconciliation cannot be built only between the government and the military," said Yan Myo Thein, a prominent Myanmar political analyst. "There must be negotiation between ethnic parties, armed groups, the military and the government."
Ethnic Burmans form a majority in Myanmar, also known as Burma, but ethnic minorities make up about 40 percent of the population. Some of those groups have fought for greater autonomy for decades.
Suu Kyi held a peace conference in late August attended by representatives of 17 of the 20 major ethnic groups, including the Kachin. The conference was intended to build on a ceasefire agreement that ethnic groups insist include a political solution to their longstanding demands. Ethnic leaders have asked for political dialogue, but the peace conference met few of their expectations, and some may drop out of the next round, expected in February. The conference was dominated by short speeches from a wide range of stakeholders, leaving little time for more significant discussion.
"There was really no substance at all," said David Mathieson, a senior researcher of Human Rights Watch who has been researching civil conflict in Myanmar for a more than a decade. "How can Suu Kyi expect to bring peace if she is not sitting down with Kachin and Shan leaders and when she is not taking the grievances of human rights abuses seriously?"
Suu Kyi's peace negotiator, Dr. Tin Myo Win, did not return phone calls from The Associated Press.
Khin Maung Myint, an NLD upper house member of parliament from a constituency in Kachin state, blamed the military and army commander Senior Gen. Min Aung Hlaing.
"Min Aung Hlaing is doing whatever he wants. … They are just trying to make NLD look bad," he said. "They are bullying ethnic people as well. The main problem with the military is that they don't want a federal system. … This is just the bad inheritance from the bad dictatorship. The military doesn't want to change."
Col. Wunna Aung, second secretary of the Joint Monitoring Committee on Ceasefire, defended the army's actions at a committee meeting Thursday.
"We are only fighting in the ethnic region to protect our own country," he said. "We want to unite the country. I don't think we have lost trust." He said the army "always welcomes everyone for peace," but that "the fighting happens because it is necessary."
Concerns about the prospects for Myanmar's peace process were heightened further after the newly formed Northern Alliance, comprised of the KIO's Kachin Independence Army, the Myanmar National Democratic Alliance Army, the Ta'ang National Liberation Army and the Arakan Army, began a joint offensive in response to military attacks in the ethnic regions of northern Myanmar.
These attacks are part of more widespread increase in fighting since the Thein Sein government launched the peace process in 2011. According to Bertil Lintner, a longtime Myanmar political analyst, fighting is now the heaviest that it has been in decades.
The heavy fighting, combined with a stalled peace process, has created fears among some that the prospects for Myanmar's peace process are dim.
"If Suu Kyi can't start a discussion with the ethnic leaders soon enough, the tension between the military and the ethnic armed groups will go higher and the possibility of ceasefire and peace process will be less," said Yan Myo Thein, the analyst.
Linter said, "It should be evident to anyone that an entirely new approach is needed" that would "include a genuine political dialogue, not just meetings with dozens of ethnic representatives."
Rebel groups are not optimistic.
"We ethnic people are not very happy even though there is a so-called democratic government. The new government is trying to hold, gain and sustain power and to get that they make deals together with the military," said La Nan, the KIO spokesman.
Story: Esther Htusan