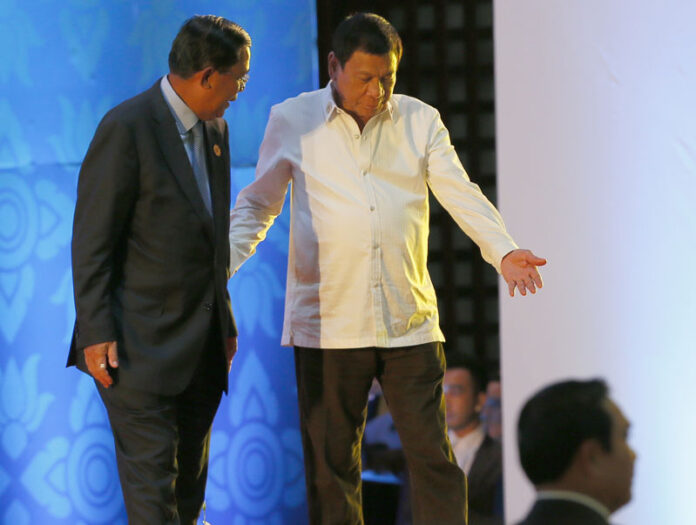 MANILA, Philippines — When Philippine President Rodrigo Duterte hosts a summit of Southeast Asian leaders this weekend, the spotlight will be on him. Just less than a year in power, he faces a mass murder complaint before the International Criminal Court and an impeachment bid at home as bodies continue to pile up in his war on illegal drugs.
Duterte, however, will find solace from the storm of criticism in the Association of Southeast Asian Nations, which has a bedrock policy forbidding its member states from meddling in each other's domestic affairs. That has fostered the 10-nation bloc, founded half a century ago, as it evolved into an unwieldy collective of dictatorships, authoritarian states and a monarchy, along with fledgling democracies.
The foul-mouthed president will not only fit right in, critics say, he'll likely steal the show.
"The ratbag of dictators, autocrats and juntas that dominate ASEAN's ranks perceive transparency, accountability and rule of law as existential threats rather than foundations of good governance," said Phelim Kine of the U.S.-based Human Rights Watch.
"Expect ASEAN leaders to yet again throw the human rights of an Asian country under the bus by remaining silent about Duterte's abusive drug war by implicitly or explicitly invoking the organization's 'non-interference' principle,'" Kine said.
Alarm expressed by Western governments, U.N. rights officials and watchdog groups over the thousands of killings of drug suspects under Duterte's brutal crackdown isn't reflected in a draft of the ASEAN chairman's statement to be issued by the Philippine president at the end of Saturday's summit. Instead, the leaders praise ASEAN efforts to advance human rights in a diverse region that remains a world hotspot.
"We were pleased with the continuous efforts to mainstream human rights across all pillars of the ASEAN Community," says the draft statement, a copy of which was obtained by The Associated Press.
The daylong summit is expected to focus on long-raging territorial rifts in the South China Sea, North Korea, terrorism threats and efforts to integrate the region's diverse economies.
The summit venue in a theater complex by Manila Bay has been put in a security lockdown, with the navy patrolling the waters and authorities declaring a no-fly zone. Anti-aircraft guns mounted on trucks have been seen in the area.
Duterte, meanwhile, has ordered the military to wipe out Muslim militants in the south and at a central resort island where the army blocked a kidnapping and bombing plot.
Once a government prosecutor who fought outlaws and insurgents, Duterte became a longtime mayor of southern Davao city, where he received a nickname for his deadly anti-crime campaign – "Duterte Harry," after Clint Eastwood's Dirty Harry movie character. Since becoming president last June, his crackdown on suspected drug dealers and users has left nearly 2,800 people dead purportedly in gunbattles with police. Another 6,000 deaths are being investigated.
The mounting killings prompted a Filipino lawyer to submit documents to the International Criminal Court in The Hague on Monday, which he said contained evidence of crimes against humanity against Duterte. The president's aides dismissed the move as black propaganda, along with an impeachment complaint, which has little chance of advancing in a Congress dominated by Duterte's allies.
ASEAN has long been hamstrung by the diversity of its members along with its policies of noninterference and making decisions by consensus. That has allowed leaders like Hun Sen of Cambodia, Thailand's coup leader-turned-premier Prayuth Chan-ocha, the one-party Communist rulers of Laos and Vietnam, and the generals who once ruled Myanmar to attain regional legitimacy and defy the call for democratic governance.
ASEAN says it's best to keep dictators in its midst engaged, because dialogue helps to keep them in check. It takes credit for helping Myanmar's generals give up power. It also sees itself as a platform to resolve conflicts and integrate the members' economies as a counterweight to Asian powerhouses led by China.
Duterte has denied condoning extrajudicial killings. He sees himself as a leader with an extra tough approach on crime, especially drug-related, which he calls a pandemic. While critics cringe, Duterte has been adored by a substantial base of followers.
While he may dodge criticism from fellow ASEAN leaders in Saturday's meetings, that could change in an expanded summit with the United States and other Western governments in November, according to Malcolm Cook, a fellow at Singapore's Institute of Southeast Asian Studies.
Aside from his deadly record, some local diplomats worry about Duterte's disdain for statecraft, irreverence and bluntly frank and profane language that could weigh on ASEAN, a conservative group steeped in tradition, protocol and nuanced rhetoric.
Last year, he broke tradition when he set aside a prepared speech in an expanded ASEAN summit with President Barack Obama and other world leaders in Laos and lashed out at what he described as America's colonial atrocities in the Philippines.
He raised an old photograph of what he said were Muslims who were massacred by American soldiers and dumped in a pit in the early 1900s on southern Jolo island. The abuses, he said, were at the root of the minority Muslim restiveness in his largely Catholic nation.
Story: Jim Gomez, Teresa Cerojano