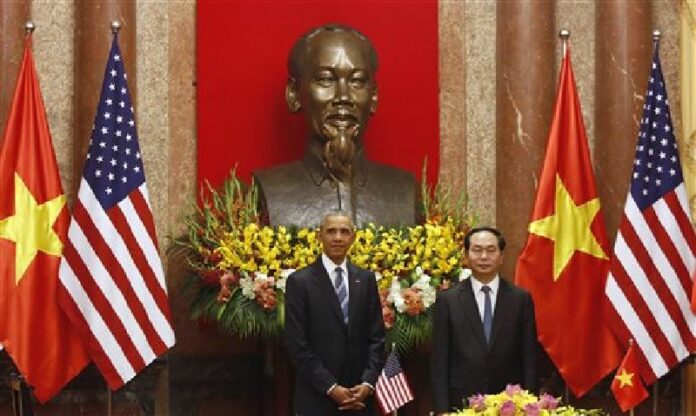 HANOI — A senior Vietnamese Communist Party official has been removed from the powerful Politburo for committing "very serious mistakes and violations" when he was head of the country's oil and gas monopoly PetroVietnam.
The Central Committee voted in majority to impose the disciplinary measures against Dinh La Thang, according to a statement posted on the party's website late Sunday.
Thang, 56, was chairman of the board of PetroVietnam from 2005 until he was appointed transport minister in 2011. While leading PetroVietnam between 2009 and 2011, Thang committed serious violations in his leadership, command and staff works, "sparking annoyance among officials, party members and people," the party statement said.
His removal signaled the intensification of the party's fight against corruption among Communist Party functionaries, which have undermined its reputation and caused serious economic problems for the country, said Le Hong Hiep, research fellow at the ISEAS-Yusof Ishak Institute, in an email.
Economist Le Danh Doanh, former head of a government economic think tank, said the party's efforts to fight corruption and restore trust should go along with institutional reforms for power oversight.
His removal was a rare punishment against a Politburo member. Discipline against other Politburo members in past cases has ranged from a reprimand to being stripped of party membership.
The party's inspection committee said in April that Thang had permitted an investment in the private Ocean Bank that exceeded regulations, causing "very serious losses to PetroVietnam." He also was found responsible for a lack of oversight over four major projects, resulting in their suspension and financial losses.
Hiep, the research fellow, said Thang is close to former Prime Minister Nguyen Tan Dung, so his removal could be seen as a move to purge Dung's cronies.
His removal would also facilitate the investigation into his wrongdoing at PetroVietnam as well as possible problems at the Ministry of Transport. He was known during his tenure there for sacking ministry officials for wrongdoing.
Thang had been elected to the 19-member Politburo early last year. He remains a member of the 180-member Party Central Committee, but his position as party chief of Ho Chi Minh City is likely to end, since it requires a Politburo membership.