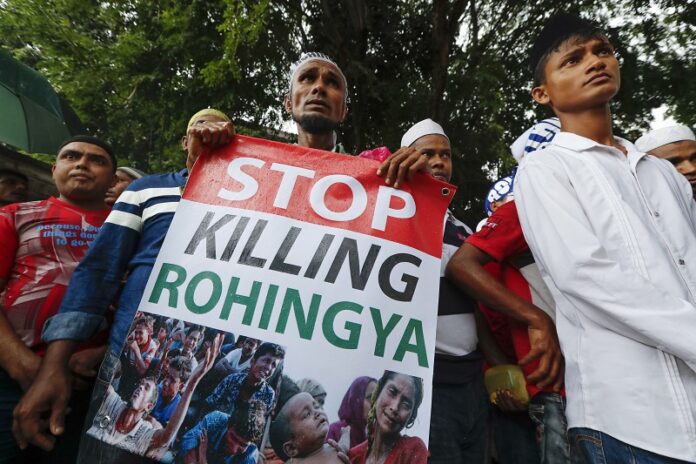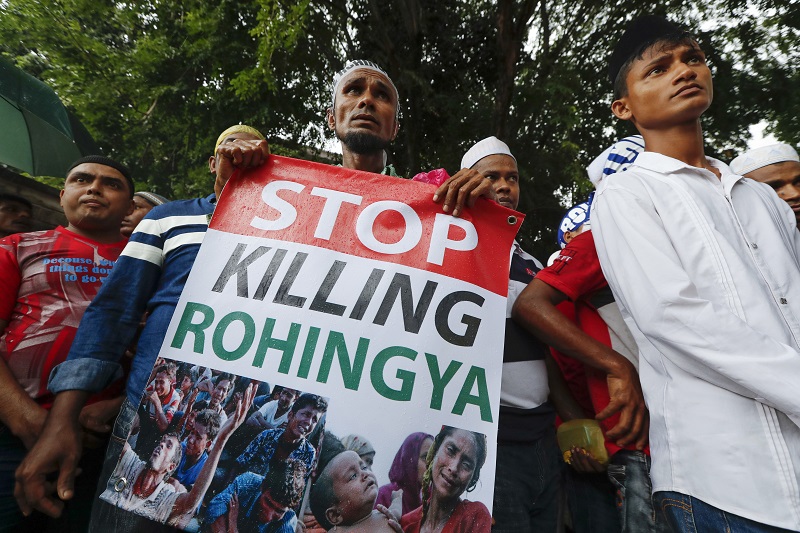 UNITED NATIONS — Two human rights groups accused the U.N. Security Council on Tuesday of ignoring large-scale "ethnic cleansing" of Myanmar's Rohingya Muslims who are fleeing across the border to Bangladesh.
Human Rights Watch and Amnesty International representatives made the charge during a news conference held at U.N. headquarters ahead of closed council discussions Wednesday on the Myanmar crisis, saying they wanted to spotlight the failure of the U.N.'s most powerful body to demand an end to the violence being used by Myanmar to to chase out Rohingya.
U.N. officials have said 370,000 Rohingyas have fled from Myanmar to Bangladesh since Aug. 25 and thousands more are arriving every day.
Louis Charbonneau, the U.N. director for Human Rights Watch, said that "this is an international peace and security crisis," with people dying and villages burning. He said there is no excuse for the Security Council "sitting on its hands."
"The situation in Myanmar's northern Rakhine state was totally predictable," Charbonneau said. "The U.N. Security Council should have seen this coming long ago. We got a taste of it last year, on a smaller scale: killings, burnings of villages … It's now much worse"
Echoing U.N. human rights chief Zeid Ra'ad al-Hussein, Charbonneau said, "This is ethnic cleansing on a large scale, it seems."
He said the United States and Sweden, both Security Council members, "have said some good things" but they need to push the council to hold an open meeting, demand an end to the killings, humanitarian access to the Rohingyas, and access for a fact-finding mission appointed by the U.N. Human Rights Council.
Russia and China, both veto-wielding permanent members, are supportive of Myanmar's government.
Tiran Hassan, Amnesty International's emergencies director, spoke by video from Cox's Bazar in southeastern Bangladesh where the Rohingyas have arrived in what she called "a sea of human misery."
She said "every day there are more horrors," including looking across the river at smoke rising from the Myanmar town of Maungdaw in Rakhine state.
"People are walking for days escaping what can only be described as widespread and systematic abuses," she said. "It is a campaign that is targeting the Rohingya," not a counterinsurgency operation as Myanmar's government claims.
Rohingya insurgents attacked police posts on Aug. 25, and Myanmar's military retaliated with what it calls "clearance operations" to root out rebels. The government's operations have included killings, disappearances and village burnings, refugees arriving in Bangladesh say.
"What we have seen in response to that attack … is collective punishment targeting the Rohingya population," Hassan said. "We agree fully with the assessment of the human rights commissioner calling it ethnic cleansing, and it is textbook."
Human Rights Watch Deputy Director Akshay Kumar showed a map where satellite photos detected 21 fires between Aug. 25 and Sept. 4, including in Maungdaw where 450 buildings that were standing on Jan. 30 were shown destroyed on Sept. 2. She said Myanmar is "being emptied" of its Rohingya population.
Story: Edith M. Lederer