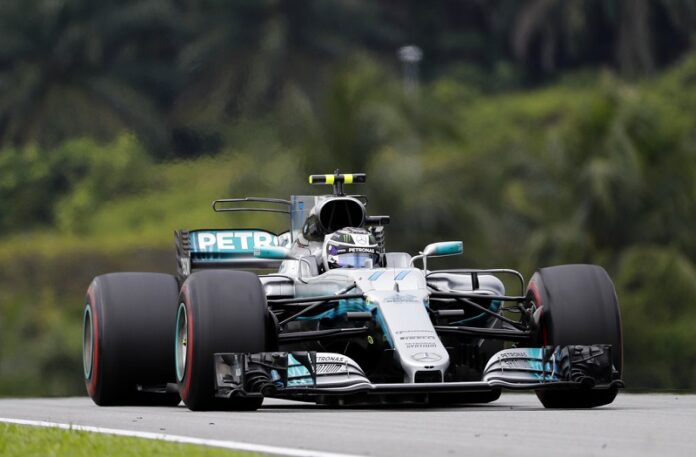 SEPANG, Malaysia — A downbeat Valtteri Bottas is experiencing "the most difficult time" in his career, despite being third overall in the Formula One championship race.
Bottas drives for Mercedes, the dominant team in F1. He has won two races and secured 10 podiums overall since joining this year from Williams. He has illustrious company, with three-time F1 champion Lewis Hamilton his teammate.
But after starting and finishing fifth in Sunday's Malaysian Grand Prix, Bottas looked and sounded totally despondent.
"For sure it's difficult. Being honest maybe the most difficult time in my career so far in terms of how it feels every time we go in the car," the 28-year-old Finnish driver said in the Mercedes motorhome. "If you're one second off the pace it's not nice and it definitely is stressful."
He had reason for concern, given that Ferrari's Sebastian Vettel started from last but overtook him to finish fourth on the Sepang track.
"If I keep doing races like this it's not going to be a good thing for anyone. The team needs the points, I need the points," Bottas said. "For various reasons there are still various question marks. I just want to turn it around quickly."
Even though Bottas finished third two weeks ago in Singapore, he was sixth in qualifying there. His podium place owed much to Vettel causing a crash on the first turn that took out Vettel's teammate Kimi Raikkonen, Max Verstappen of Red Bull and McLaren's Fernando Alonso.
Heading into the summer break, Bottas was touted as an outsider for the F1 title. But now talk is of how Hamilton gets the most from the car's tires, whereas Bottas does not.
"Valtteri seems to struggle more having the car in that sweet spot than Lewis," Mercedes head of motorsport Toto Wolff said. "(But) I have no doubt with his intelligence he is going to put the jigsaw together. The very good drivers are able to pick themselves out of a very difficult situation."
Hamilton, who finished second in Malaysia, has transformed complicated practice sessions into pole positions and valuable points. He leads Vettel by 34 points with five races left and the British driver is arguably performing as well as ever.
"He just drives the car perfectly, he manages to cope with a car that is maybe a little bit capricious," Wolff said of Hamilton. "When it matters he is able to put it in the right place."
Still, having recently awarded Bottas a new contract for 2018, Mercedes is hardly about to shut the door on a key investment.
"I think he will overcome this period. Somebody clever said: 'Smooth seas don't make tough sailors,'" Wolff said. "I think if he can dig himself out of this current underperformance he's going to come out much stronger."
The Japanese GP in Suzuka next weekend will give a clearer indication of that.
Story: Jerome Pugmire