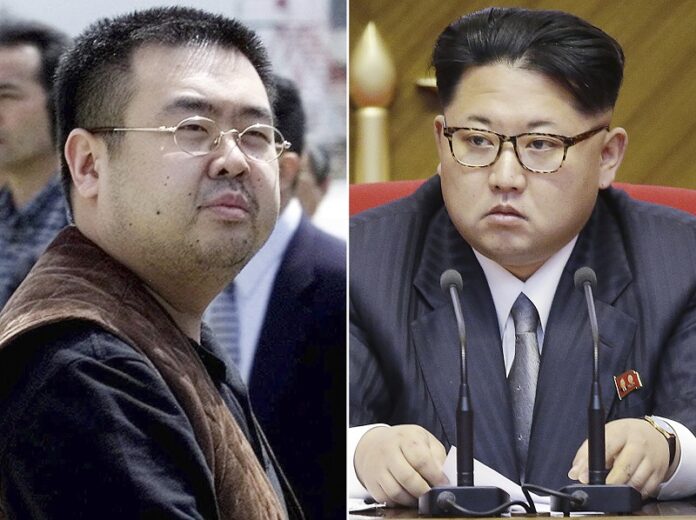 SHAH ALAM, Malaysia — Witnesses recounted the last moments of the estranged half brother of North Korea's leader as the trial began Monday in Malaysia of two women accused of assassinating him by smearing an exotic poison on his face.
Siti Aisyah of Indonesia and Doan Thi Huong of Vietnam are charged in the Feb. 13 murder of Kim Jong Nam using banned VX nerve agent at a crowded airport terminal in Kuala Lumpur.
The women, who pleaded innocent at Malaysia's High Court, have said they thought they were playing a harmless prank for a hidden-camera TV show and had been hoodwinked by men suspected of being North Korean agents. North Korean leader Kim Jong Un is believed to have considered his older sibling a potential rival for power.
Monday's court session was primarily a reconstruction of Kim Jong Nam's final moments at the airport.
Airport Information Counter Staff Juliana Idris
Juliana, the first person Kim went to after being attacked, told the court "his hands were shaking a bit" but she didn't know why. She said Kim told her "he was attacked from behind by two women," with one of them wiping something over his eyes.
She said that at Kim's request she took him to file a report with a police officer before going to a clinic.
Police Officer Mohd Zulkarnain Sanudin
Zulkarnain testified that Kim's eyes were red and he could see some liquid on his face, but he could not tell if it was sweat or something else.
He said he had mistakenly reported that Kim was South Korean because he had misidentified his passport, issued under North Korea's formal name, the Democratic People's Republic of Korea. The passport used Kim's pseudonym, Kim Chol.
Airport Clinic Nurse Rabiatul Adawiyah Mohamad Sofi
Rabiatul said that before Kim had a seizure, she used facial tissue to wipe liquid off his face, but he appeared to still be sweating. She said Kim appeared to be in pain and told her someone sprayed liquid on his face.
Airport Clinic Doctor Nik Mohd Adzrul Ariff Raja Azlan
Nik said Kim was unable to respond when he was asked what had happened.
"When I saw him, his hands were clutching his head. He was closing his eyes tightly and his face was very red. He was sweating profusely," Nik testified.
He said Kim had extremely high blood pressure and rapid pulse and started to display seizure symptoms, with his jaw and teeth clenched and eyes rolling upward.
Kim then fell unconscious and his blood pressure plunged, and his pulse gave out, Nik said.
Story: Eileen Ng