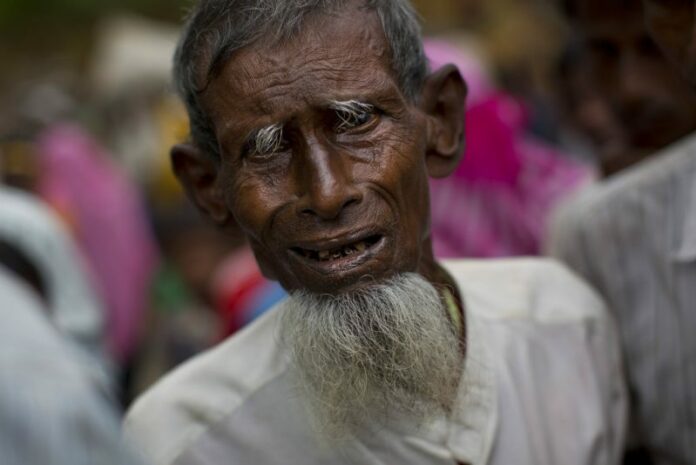 DHAKA, Bangladesh — Wild elephants attacked a new camp where Rohingya refugees were sleeping, killing a woman and her three children in southern Bangladesh, an official said Sunday.
A herd of elephants entered the Balukhali camp in Ukhiya town early Saturday and trampled tents where several refugees were sleeping, said district forest official Mohammed Ali Kabir.
Four other people, including the woman's husband, were injured in the attack, Kabir said. Many others fled to safety when they heard the elephants approaching.
Officials said the new camp was built in a forest area that was earlier frequented by elephant herds.
The woman's husband, Abu Bakar Siddique, said Sunday that he had been released from the hospital, but that one of his children and some other relatives were still hospitalized.
More than 500,000 Rohingya Muslims have fled from Myanmar's Rakhine state to neighboring Bangladesh since Aug. 25, when Myanmar security forces responded to attacks by a militant Rohingya group with a broad crackdown on the long-persecuted Muslim minority. Many houses were burned down.
The United Nations has called the violence "textbook ethnic cleansing."
Siddique said he and his family made the perilous journey from Rakhine state to reach Bangladesh some four days ago.
They found a place and were living in a tent in one of the camps where hundreds of thousands of Rohingya have taken refuge.
"I fled Myanmar to avoid attacks by the military. But the elephants have killed my wife and children," Siddique said. "It is painful to live this way. I have lost everything."
Kabir, the forest official, said that the elephant habitat was under threat and that the passages used by the animals to move from one place to another have been encroached by human settlements.
Bangladesh's government had earlier declared around 27,000 hectares (66,720 acres) of land as reserve forests where herds comprising some 117 elephants had been spotted in the past, Kabir said.
It was the third attack by wild elephants on the refugees in Bangladesh's Cox's Bazar district, which borders Myanmar. At least three people died in the two previous attacks.