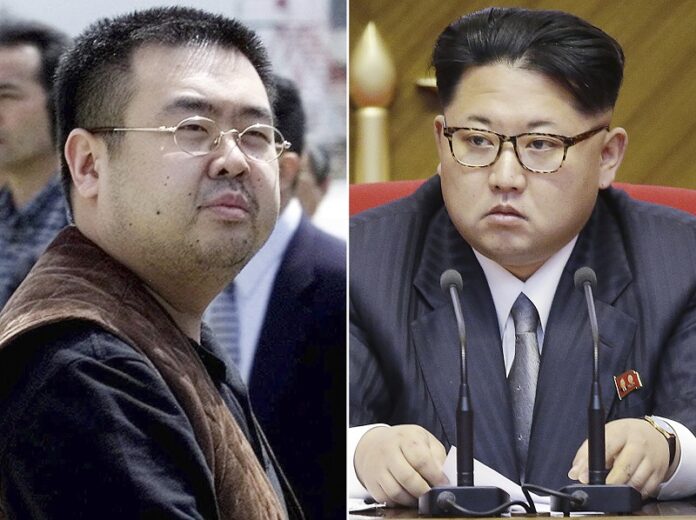 SHAH ALAM, Malaysia — Defense lawyers in the trial of two women accused of killing the estranged half brother of North Korean leader Kim Jong Un sought Wednesday to establish there was a political motive in the brazen airport assassination, with many key suspects linked to the secretive state.
Siti Aisyah of Indonesia and Doan Thi Huong of Vietnam are the only two suspects in custody. They are accused of smearing the banned nerve agent VX on Kim Jong Nam's face at a Kuala Lumpur airport terminal on Feb. 13. They pleaded not guilty at the start of their trial on Oct. 2 and face a mandatory death sentence if convicted.
Prosecutors have accused four North Korean men, who fled Malaysia on the day of the killing and remain at large, of conspiring with the women to plot the murder.
"We are able to establish that it is not a simple murder. There are a lot of political connotations. All the suspects are North Koreans and the North Korean Embassy was not cooperative in helping police," Aisyah's lawyer, Gooi Soon Seng, told reporters after the court session. "In this case, the motive appears to be political more than anything else … and the girls would not have any political motive whatsoever."
Key parts of Wednesday's session that tried to show the North Korean connection:
Car Used to Ferry Suspects
Police investigating officer Wan Azirul Nizam Che Wan Aziz told the court that the car used to ferry three of the North Korean suspects to the airport on the day of the murder was bought by a North Korean Embassy official known as Chal Su four months earlier. But he said the vehicle was registered under the name of Ri Jong Chol, a North Korean man.
Ri, a chemist, was arrested four days after Kim was killed. He was later released due to a lack of evidence and deported because he did not have valid travel documents. Wan Azirul said Ri did not drive the suspects to the airport and told police before he was deported that Chal Su used his name to buy the car in October last year. He said he couldn't verify Chal Su's status because the North Korean Embassy refused to cooperate.
North Korean Embassy Official, Air Koryo Employee
Airport security video showed that Hyon Kwang Song, then the second secretary at the North Korean Embassy in Kuala Lumpur, and Kim Uk-Il of Air Koryo, North Korea's national carrier, arrived at the main airport terminal 40 minutes before Kim was attacked. The two men were later seen meeting with the North Korean suspects, and Wan Azirul said they assisted the four in leaving the country.
Wan Azirul said police had issued arrest warrants for the two but couldn't interrogate them because they were hiding at the North Korean Embassy. The two were later allowed to leave Malaysia in exchange for nine Malaysians stranded in North Korea, in a deal to end a diplomatic row. Wan Azirul said police interviewed the two suspects before they left but didn't seize their cellphones or laptops to obtain further information. He has said the two claimed it was their duty to assist North Korean citizens flying off.
Wan Azirul said three of the four suspects flew to Indonesia's capital, Jakarta, right after Kim was killed, but couldn't confirm a defense assertion that they then flew to Dubai and to Vladivostok in Russia before landing in Pyongyang – routes that the defense said are through countries with friendly ties with North Korea. Wan Azirul said he didn't know if the three men worked for the North Korean Embassy. When asked by the defense whether the fourth suspect flew to Phnom Penh, Cambodia's capital, and stayed there for two days before flying to Bangkok, he said he did not know.
Investigation Constraints
Wan Azirul said his investigation into the North Korean suspects has been partly hampered because it's a case involving another country, and that he needed approval from his superior before he could take any action involving the men. He also said he had sought to take a statement from another North Korean suspect, Ri Ji U, known as James, but didn't receive the green light. Defense lawyer Gooi has said James is believed to have recruited Aisyah.
Story: Eileen Ng