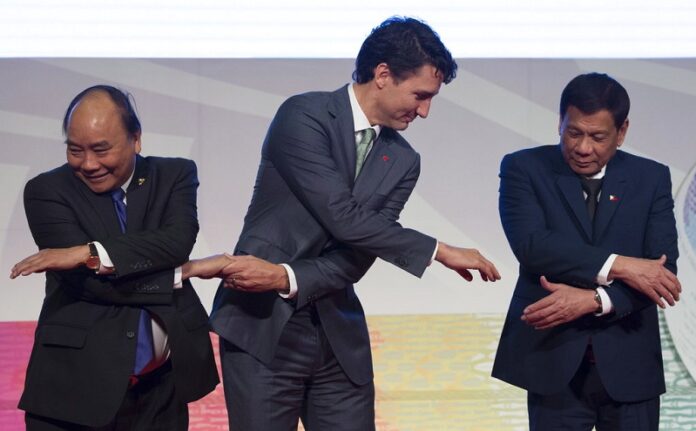 MANILA — Philippine President Rodrigo Duterte said he was angered and insulted on Tuesday by Canadian Prime Minister Justin Trudeau's comments about the Philippine government's war on drugs, which has earned widespread condemnation for leaving thousands of suspects dead.
Trudeau said he raised concerns about human rights abuses and extrajudicial killings in Duterte's anti-drug campaign when he met Tuesday with the president ahead of Canada's summit in the Philippines with the 10-member Association of Southeast Asian Nations.
Trudeau was the first leader of the 20 attending this week's ASEAN summit and related meetings who has publicly said he brought up the touchy issue with the volatile Filipino leader.
"I also mentioned human rights, the rule of law and specifically extrajudicial killings as being an issue that Canada is concerned with," Trudeau said at a news conference. "I impressed on him the need for respect for the rule of law, and as always offered Canada's support and help as a friend to move forward on what is a real challenge."
He said Duterte was receptive to his comments and their exchange was cordial and positive.
But Duterte later told reporters that he had refused to provide an explanation for the killings.
"I said I will not explain. It is a personal and official insult," Duterte said. "It angers me when you are a foreigner, you do not know what exactly is happening in this country. You don't even investigate."
Duterte is highly sensitive to such criticism, and in the past called then U.S. President Barack Obama a "son of a bitch" after the State Department publicly expressed concern over the Philippine anti-drug campaign.
President Donald Trump, who also attended this week's ASEAN summit, did not publicly take Duterte to task for the drug crackdown. Instead, Trump said he and Duterte "had a great relationship," and avoided questions about whether he raised human rights concerns in a meeting with the Philippine leader.
The White House later said they discussed the Islamic State group, illegal drugs and trade during the 40-minute meeting. Press secretary Sarah Huckabee Sanders said human rights came up "briefly" in the context of the Philippines' fight against illegal drugs. She did not say if Trump was critical of Duterte's program.
Harry Roque, Duterte's spokesman, said there was no mention of human rights or extralegal killings during the meeting with Trump, but there was a lengthy discussion of the Philippines' war on drugs, with Duterte doing most of the explaining.
The two sides later issued a statement saying they "underscored that human rights and the dignity of human life are essential, and agreed to continue mainstreaming the human rights agenda in their national programs."
Story: Teresa Cerojano