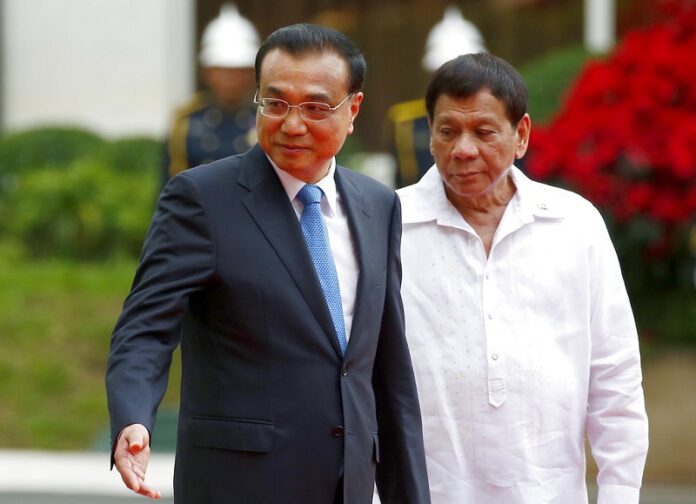 MANILA — Philippine President Rodrigo Duterte has offered to China an opportunity to operate a new, third telecommunications carrier in the country, his spokesman said Monday.
The move is aimed at breaking a telecoms duopoly in a country that is said to have the slowest internet speed in the Asia Pacific. It is unclear if China or any Chinese companies would be keen to take Duterte up on his offer.
Presidential spokesman Harry Roque said Duterte made the offer to Chinese Premier Li Keqiang during their bilateral meeting in Manila last week.
The market now is dominated by domestic telecoms operators Globe Telecom Inc. and PLDT Inc.
In 2007, the Philippines signed a contract with China's ZTE for a national broadband network. The project was plagued with problems such as alleged overpricing and kickbacks and was eventually scrapped.
Last week, the government signed an agreement with a Facebook subsidiary for the "Luzon Bypass" project. It involves installation of submarine cables for a high speed internet infrastructure and providing 2 terabits per second of bandwidth — equivalent to the current combined capacity of Globe and PLDT.
"So the good news is, the consumers can look forward now to better telecommunications, not just in terms of cellular technology but also in terms of internet speed as well as access," Roque said.
China's state-owned China Mobile Ltd. is the world's biggest phone carrier by subscribers, with 880 million mobile accounts and 106 million broadband internet customers. China Telecom Ltd. and China Unicom Ltd. are nearly as large.
All three have been slow to expand outside their lucrative and sheltered home market but have stepped up investment in the past two years, usually by taking stakes in carriers in other developing countries such as Brazil, Thailand and Pakistan.