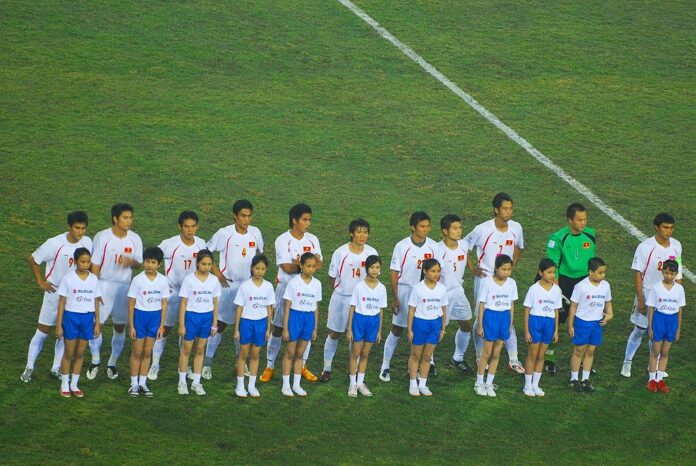 KUALA LUMPUR — Southeast Asian soccer is making positive news for a change with historic performances at the continental under-23 championships, spearheaded by a coach nick-named "The Asian Hiddink."
Vietnam head coach Park Hang-seo is the toast of the country after leading the team to the semifinals. Park was a member of Guus Hiddink's coaching staff when South Korea reached the 2002 World Cup semifinals — a run that had millions of Koreans gathering in the streets to support the national team's progress in the tournament it was co-hosting with Japan.
On Saturday it was the turn of Vietnam fans to celebrate in the streets and plazas after a famous quarterfinal win over Iraq. From the country's ubiquitous scooter riders waving flags to Vietnam's Prime Minister Nguyen Xuan Phuc, there were hearty congratulations for the team.
"I have always believed that the players had the talent," Park, who burst into tears after the successful penalty shootout that followed a dramatic 3-3 draw, told reporters. "They needed a lift and the belief they can win against teams like Iraq. Now we have to keep going."
It is not only the results and performances that have fans and media swooning. Park has received praise for his friendly manner and putting his hand on his chest during national anthems.
"We have never seen a foreign coach like this," reported Ho Chi Minh city newspaper Nguoi Lao Dong. "We have had many Korean singers and movies stars be popular here but now it is Park receiving the love of the Vietnamese people."
In Seoul, Park's exploits with Vietnam have been widely covered with commentators observing that the man who witnessed the events of almost 16 years ago is now forging a legend of his own by injecting belief and discipline into a team that has always had talent.
It is not over yet. Vietnam faces a tough task against Qatar, which has won all four of its games in the tournament so far, in the semifinal on Tuesday. Confidence is high after the Iraq win and victory over Australia in the group stage.
"We know that there is still lots of work to do," Park said. "But now we are looking forward to showing what we can do. We are ready."
Another surprise win could pit Park against South Korea in the final if the East Asian team can overcome Uzbekistan.
South Korea had to defeat Southeast Asian opposition in the quarterfinal, with a tough 2-1 victory over Malaysia. Despite the loss, fans in Kuala Lumpur were happy with a fine performance and a good tournament overall.
"We played well in this quarterfinal match, though we know they are good teams," Malaysia goalscorer N. Thanabalan said after the match."But we can prove that we can play with them."
The soccer news in Malaysia has been dismal for some time and the senior team is currently ranked No. 175 by FIFA, its lowest ever in the international standings.
Low expectations heading into the tournament were seemingly confirmed after a 4-1 loss to Iraq in the opening game. The Tigers bounced back, though, to draw with Jordan and beat Saudi Arabia 1-0 in the last group stage game before giving the Koreans a scare.
Now Malaysia coach Ong Kim Swee wants to move forward and qualify for the 2020 Olympics by going one step further in the next U-23 Championship.
"It is a very good achievement, but we cannot afford to be too happy or celebrate too much," the coach said. "We can't just stop here, personally my target is qualification for the Olympic Games and what we will have to do is become one of the top four teams at the 2020 AFC Under-23 Championship."
Story: John Duerden