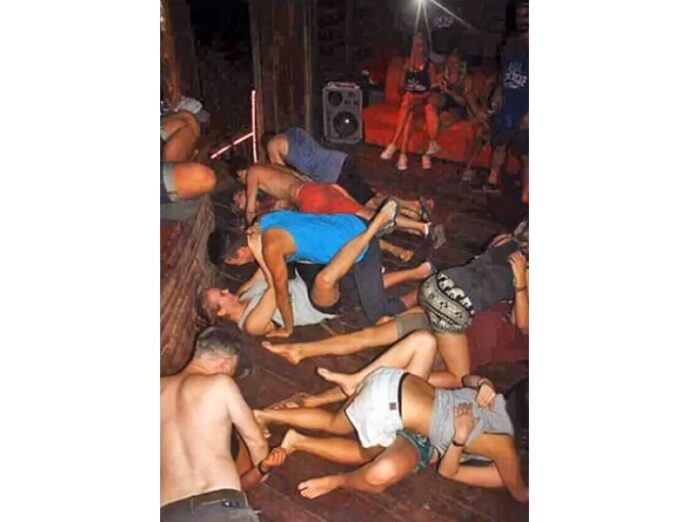 PHNOM PENH — A court in Cambodia has allowed the release on bail of seven Westerners who were arrested last month for allegedly posting photos on social media of themselves engaged in sexually suggestive dancing, a court official said Thursday.
Yim Srang, a court spokesman in the northwestern province of Siem Reap, said the investigation of the case has been completed and the seven were freed Wednesday, but no trial date has been set. He said three other people remained in detention but he didn't know their names or nationalities.
The 10 arrested people – five from the United Kingdom, two from Canada, and one each from Norway, the Netherlands and New Zealand – were detained when police raided a commercially organized party at a rented villa in Siem Reap town and found people dancing at an event described as a pub crawl. Siem Reap is near the famous Angkor Wat temple complex.
Police who conducted the raid originally detained almost 90 people, and it was unclear why they singled out 10 to remain in custody and be charged. Police said those caught in the raid had been "dancing pornographically" and offended Cambodian standards of morality. They face up to a year in jail if convicted.
One of the detainees' lawyers, Sourng Sophea, said last week that some of the photos posted by his clients showed them at a party, some drinking by a swimming pool and some of the women in bikinis, but none showed them having sex or exposing themselves. According to the law, he said, they should be deported or have their visas canceled, but should not be held in pretrial detention.
In a brief video made last week of the detainees, one unidentified man apologized for any offense he might have caused. Declaring that he had lived in Cambodia for two years, he said "I respect the culture, I help Cambodian children, I help Cambodian families."
"I don't want to make any problems with Cambodia," he said. "It's just one mistake … I'm sorry."
Asked by an off-camera interviewer if they wanted to go back to their own countries, several replied "yes" while all nodded their heads.
A journalist for the Phnom Penh Post, whose website was first to report the release, said on Twitter that the three still detained were from the United Kingdom, the Netherlands and Norway. Ananth Baliga did not identify them by name, but said they were considered the organizers of the event.
The British Foreign Office said in an email Thursday that its staff was assisting four British men who were released and one British man who remained in custody.
Ouch Sopheaktra, another one of the group's lawyers, said he filed for bail on Monday for the seven who were released, judging that their alleged offenses were minor.
He said he had not yet decided to appeal for bail for the other three because their cases were "a bit more complicated" and he needed more time to consider their situation. He did not explain further, but there has been speculation that some of the detainees would not seek bail in the hope that would expedite their cases and not leave them trapped in Cambodia for an extended period awaiting trial.
Story: Sopheng Cheang