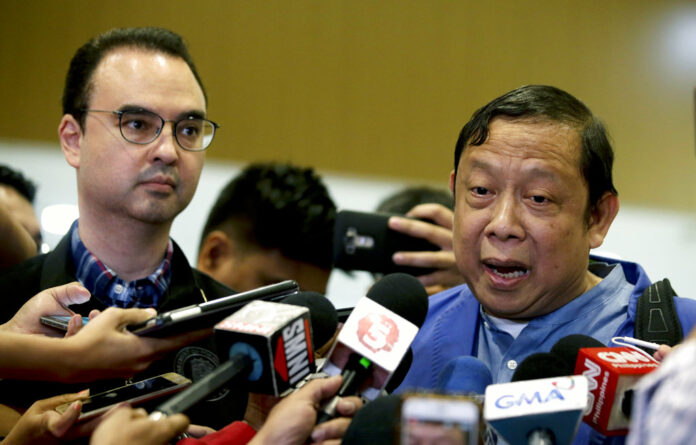 MANILA — A Filipino ambassador expelled by Kuwait, which protested the rescue of abused Filipina housemaids in the Persian Gulf country as an affront to its sovereignty, returned home Wednesday with the Philippines insisting it did not commit any infraction.
Philippine Foreign Secretary Alan Peter Cayetano welcomed Ambassador Renato Villa at Manila's international airport. Both expressed hope that the diplomatic row could be resolved soon.
Cayetano said 35 of 38 rescue efforts of Filipina housemaids by Philippine officials last month were coordinated with Kuwaiti authorities but three were conducted by Filipino officials themselves because rapid action was needed.
The move, Cayetano said, "is acceptable and is a duty under international law but it caused commotion to them."
"That's why I said I apologize if our actions seemed to violate your sovereignty but let me assure you it's in the spirit of protecting our nationals," Cayetano told reporters at the airport.
Kuwait's Foreign Ministry accused the Philippine Embassy last week of a "flagrant and grave breach of rules and regulations that govern diplomatic action where staff helped Filipina house helpers run away," and ordered Villa to leave within a week. Kuwait also recalled its ambassador from Manila.
Two Filipinos associated with the embassy were also arrested in Kuwait for allegedly convincing maids to flee their employers' homes.
Despite the dispute, Cayetano said a resolution of what he called a "miscommunication" between the two governments was in the offing. "We're getting near to understanding each other," he said.
Cayetano also welcomed statements by Kuwaiti officials that they were ready to cooperate with the Philippines to resolve the misunderstanding and address labor issues facing Filipino workers in the oil-rich nation.
"The positive response we have received from Kuwait now provides us with an excellent opportunity to write a new chapter that should allow us to overcome any and all future challenges between the two countries," Cayetano said.
The Philippines banned the deployment of workers to Kuwait after the body of a Filipina housemaid was discovered in a freezer in a Kuwaiti home in February.
In late March, Lebanese officials said a Lebanese national confessed to killing the woman with his Syrian wife, who remains at large. Authorities say the man faces a possible death sentence.
Philippine President Rodrigo Duterte said Sunday that the employment ban, which has been in effect since February, will become permanent, but his spokesman later said it could still be lifted if a labor agreement ensuring the protection of Filipino workers is signed.
Since becoming president, the populist Duterte has repeatedly accused Kuwait of not properly addressing the abuse of Filipino workers.
More than 260,000 Filipinos work in Kuwait, many of them as housemaids. Kuwait and the Philippines have been negotiating new rules governing Filipino workers there.
The Philippines is a major labor exporter, especially to the Middle East. About a tenth of the population works abroad, and the earnings they send home have bolstered the Philippine economy for decades.
It's likely both sides want to negotiate an end to the dispute, especially ahead of the Muslim holy month of Ramadan, which begins this month. Kuwaitis particularly rely on Filipina house helpers during the period as they abstain from water and food during daylight hours.
Story: Jim Gomez