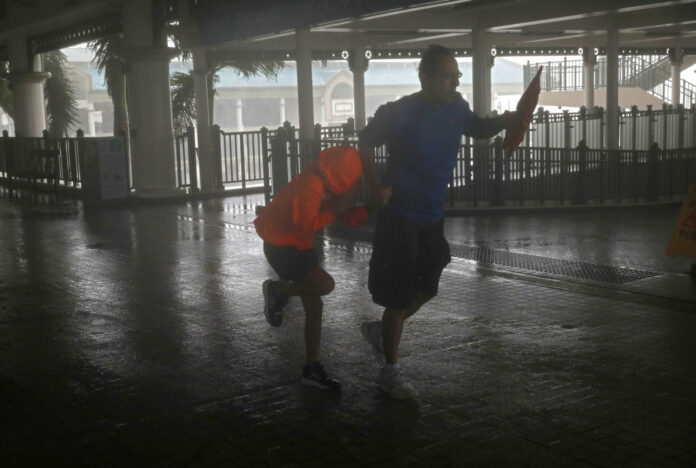 HONG KONG — Hong Kong and southern China hunkered down under red alert Sunday as strong winds and heavy rain from Typhoon Mangkhut lashed the densely populated coast, a day after the biggest storm of the year left at least 28 dead from landslides and drownings in the northern Philippines.
Nearly half a million people had been evacuated from seven cities in Guangdong province, the gambling enclave of Macau closed down casinos for the first time and the Hong Kong Observatory warned people to stay away from the Victoria Harbour landmark, where storm surges battered the waterfront reinforced with sandbags. Mangkhut is due to make landfall in Guangdong later Sunday.
The national meteorological center said southern China "will face a severe test caused by wind and rain" and urged officials to prepare for possible disasters.
On Sunday morning, the typhoon packed sustained winds of 155 kilometers (96 miles) per hour and gusts of up to 190 kph (118 mph). The Hong Kong Observatory said although Mangkhut had weakened slightly, its extensive, intense rainbands were bringing heavy downfall and frequent squalls.
Hundreds of flights were canceled. All high-speed and some normal rail services in Guangdong and Hainan provinces were also halted Sunday, the China Railway Guangzhou Group Co. said.
In Fujian province and elsewhere, tens of thousands of fishing boats returned to port and construction work came to a stop.
Philippine National Police Director General Oscar Albayalde told The Associated Press that 20 people had died in the Cordillera mountain region, four in nearby Nueva Vizcaya province and another outside of the two regions. Three more deaths have been reported in northeastern Cagayan province, where the typhoon made landfall before dawn Saturday.
Among the fatalities were an infant and a 2-year-old child who died with their parents after the couple refused to immediately evacuate from their high-risk community in a Nueva Vizcaya mountain town, said Francis Tolentino, an adviser to Philippine President Rodrigo Duterte.
"They can't decide for themselves where to go," he said of the children, expressing frustration that the tragedy was not prevented.
Tolentino, who was assigned by Duterte to help coordinate disaster response, said at least two other people were missing.
Mayor Mauricio Domogan said at least three people died and six others were missing in his mountain city of Baguio after strong winds and rain destroyed several houses and set off landslides, which also blocked roads to the popular vacation destination. It was not immediately clear whether the dead and missing had been included in the overall death toll.
About 87,000 people had evacuated from high-risk areas of the Philippines. Tolentino and other officials advised them not to return home until the lingering danger had passed.
In Cagayan's capital, Tuguegarao, where the typhoon hit land, Associated Press journalists saw a severely damaged public market, its roof ripped apart and wooden stalls and tarpaulin canopies in disarray. Outside a popular shopping mall, debris was scattered everywhere and government workers cleared roads of fallen trees.
The Tuguegarao airport terminal also was damaged, its roof and glass windows shattered by strong winds.
The typhoon struck at the start of the rice and corn harvesting season in the northern breadbasket, prompting farmers to scramble to save what they could of their crops, Cagayan Gov. Manuel Mamba said.
In Hong Kong, Security Minister John Lee Ka-chiu urged residents to prepare for the worst.
"Because Mangkhut will bring winds and rains of extraordinary speeds, scope and severity, our preparation and response efforts will be greater than in the past," Lee said. "Each department must have a sense of crisis, make a comprehensive assessment and plan, and prepare for the worst."
Cathay Pacific said all of its flights would be canceled between 2:30 a.m. Sunday and 4 a.m. Monday. The city of Shenzhen also canceled all flights between Sunday and early Monday morning. Hainan Airlines canceled 234 flights in the cities of Haikou, Sanya, Guangzhou, Shenzhen and Zhuhai scheduled this weekend.
For the first time in the history of Macau, next door to Hong Kong, casinos were ordered to close from 11 p.m. Saturday, the South China Morning Post reported. The gambling city suffered catastrophic flooding during Typhoon Hato last August that left 10 dead and led to accusations of corruption and incompetence at its meteorological office.
Story Vincent Yu