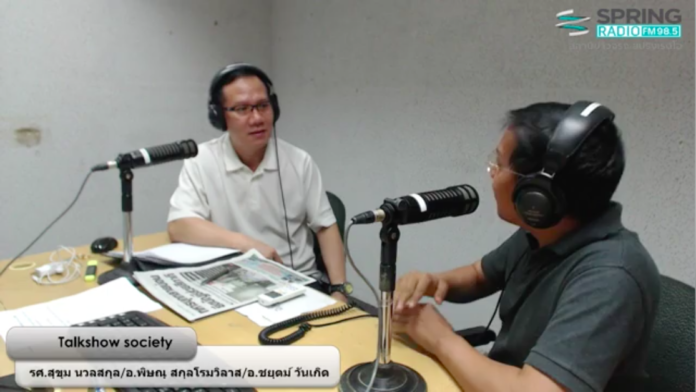 BANGKOK — Broadcasting authorities on Wednesday ordered Spring News TV's radio channel shut for five days after receiving complaints that it had aired inappropriate content.
Takorn Tantasith, secretary general of the National Broadcasting and Television Commission, or NBTC, announced Wednesday it was suspending Spring Radio FM 98.5 MHz from broadcasting starting just after midnight early Thursday morning through noon on Monday. The order was made after authorities received unspecified complaints about allegedly inappropriate program content deemed a threat to peace and national security.
An inquiry to clarify the issue is set to take place at 10am on Monday. Until then, the channel will not air.
Attempts to reach Spring Radio and the commission for more information on Thursday afternoon were unsuccessful.
On the air since November 2015, Spring Radio is operated by News Network Corp., which owns Spring News TV channel and Thansettakij newspapers.
Last month, the broadcasting commission also ordered Voice TV off air for a week, claiming its allegedly biased reporting could damage the military regime.
Related stories: