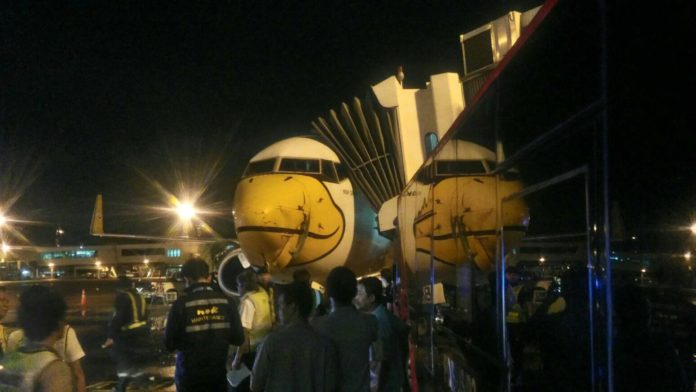 BANGKOK — An airport shuttle bus crashed into a parked airplane Friday night, an incident which the airline said may affect flight schedules. There were no reports of injuries.
Nok Air issued a statement Saturday saying an AirAsia shuttle bus had hit one of its stationary jets with tail No. HS-DBK at apron No. 35 of Don Mueang International Airport. The crash left no injuries but authorities said the incident may affect flight schedules.
Photos taken after the crash show visible damages to the frontal left part of the aircraft. The plane was empty, undergoing preparations for a scheduled morning flight, which was suspended after the incident.
Authorities said the airplane would be grounded from service while it undergoes inspection for further damage. They said passengers might be affected from rescheduled or delayed flights in certain routes. The airline did not specify what routes would be affected or when normal operations would resume.
AirAsia said in a statement that the incident had been an accident and that the airline was working closely with the airport and involved organizations for further investigation.