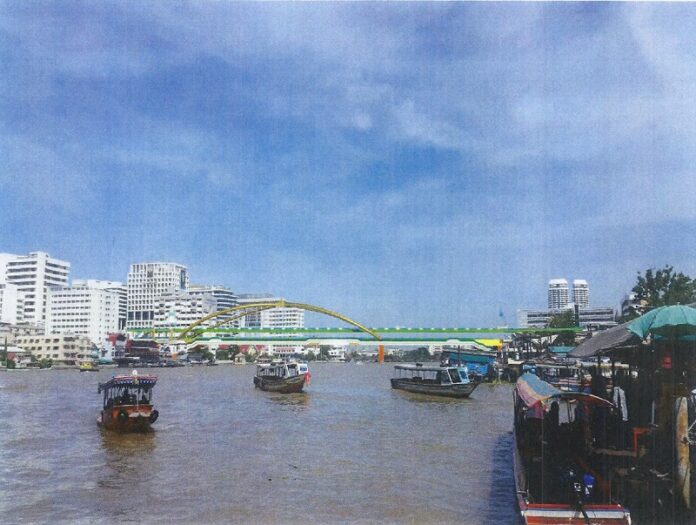 BANGKOK — Architects raised concern Thursday that the controversial design for a footbridge over the Chao Phraya River was decided upon well before the public was given a chance to weigh in.
While City Hall and its consultants said the suspension arch design was selected after a public hearing in December, but two architects who participated in different stages of the project both suspect the one chosen – which many find outdated and ugly – was picked before four options were proposed to the public.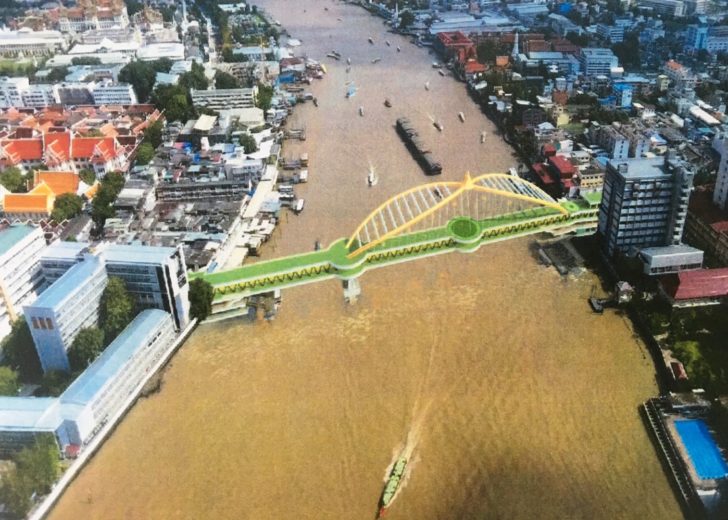 Revived last year seven years after it was first proposed, the project would link the Tha Prachan and Wang Lang piers by a walkway and bike path. City Hall hired a consultant firm in April 2016 to begin a nine-month feasibility and design study.
The final design was selected by the public in December from four proposed options, according to City Hall's Sornchai Tovanichkul. The construction could cost up to 1.7 billion baht.
Read: City Hall Dismisses Concerns Over Chao Phraya Footbridge
But a landscape architect in the government's Fine Arts Department said that when the authorized consultants came seeking advice in May, seven months before the hearing, they had no other designs.
"They only had one design to present, which is the same as the final model now," Muenkaew Charutula-Wachiratienchai said Thursday. "The other three choices might have been added just to induce people to drop them from the list."
Muenkaew said the design shows the entrance to the bridge – which will be built over Tha Prachan pier – could be as high as a four-floor building.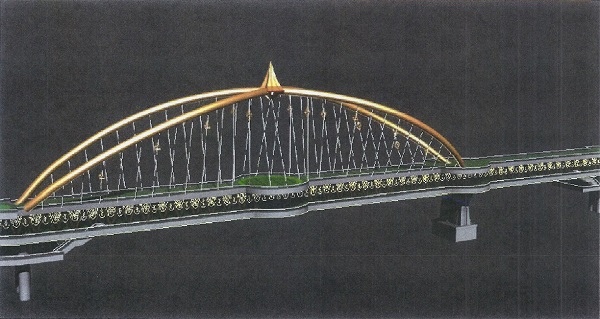 They advised  the team to change the design, but they never returned to present a new model. The next time Muenkaew saw it was in July 7 when it was presented as public's choice.
Mueankaew's doubts were shared by architects who participated in a hearing two months later where four designs were presented.
"I told them if they were my students, I would tell them to go back and redo it all," police Lt. Col. Parinya Charoenbundit said. "It appeared like they wanted that option to be chosen."
Parinya joined the hearing between government organizations held July 22, 2016. He said the consultant team presented advantages and disadvantages to each design which left the audience with only one obvious option to choose.
Three of the designs called for cable-suspended bridges, two of which required one or two support pylons driven into the river. All three suboptimal designs required major, loud construction sites that would be a problem for the adjacent Siriraj Hospital.
That left the only plausible option, a crossed-archway bridge with no pylons to sink.
"When designing options, you need to make them all competitive. You can't just make up your mind already," Parinya said. "I understand they had very limited time to work and might already have the design they wanted but needed to hold a hearing anyway."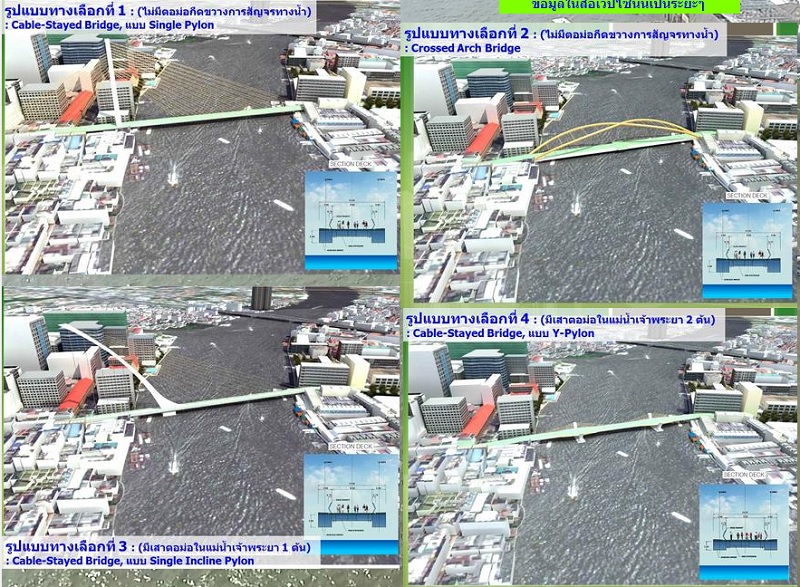 The deputy director of Bangkok public works, Sornchai Tovanichkul, said the design was chosen by the public in December. They revised the design by adding one pylon and adding a second deck presenting it again in July.
Sornchai said he was in a meeting Friday afternoon and unable to comment.
The project comes as the military government is forging ahead with evicting communities along seven kilometers of river where they plan to build concrete walkways for another controversial river redevelopment project.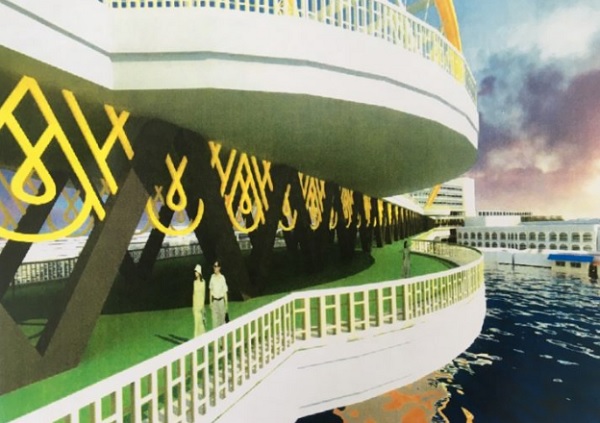 Despite receiving a positive reception from local residents when it was revealed to the public, the bridge has been widely criticized for its design, impact, worthiness and process. City Hall on Tuesday dismissed all concerns and said the project was the result of a proper study and process.
Beside being a blot on the landscape, Muenkaew said the construction would affect the historical ruins lying beneath the location where the bridge's entrance will be built.
City Hall has yet to submit the walkway project for approval from the Department of Fine Arts, Muenkaew said.
"We never said that the historical site cannot be touched," she said. "But this bridge design is not in harmony with the context. Also, this is 2017, perhaps the bridge can look more innovative?"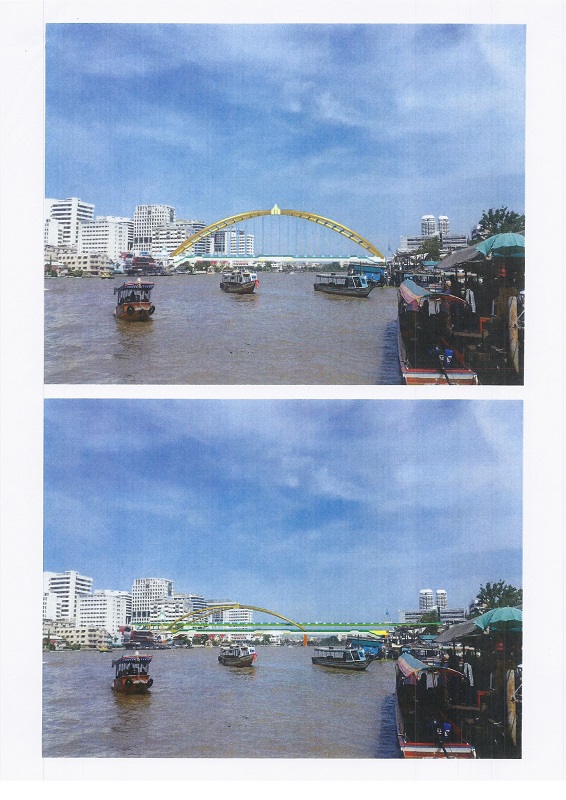 Related stories:
City Hall Dismisses Concerns Over Chao Phraya Footbridge
Footbridge Across Chao Phraya Floated by City Hall, Again
Correction: An earlier version of this article incorrectly stated that Muenkaew saw the final design for a second time in December at a public hearing. In fact she did not see it again until July 7.