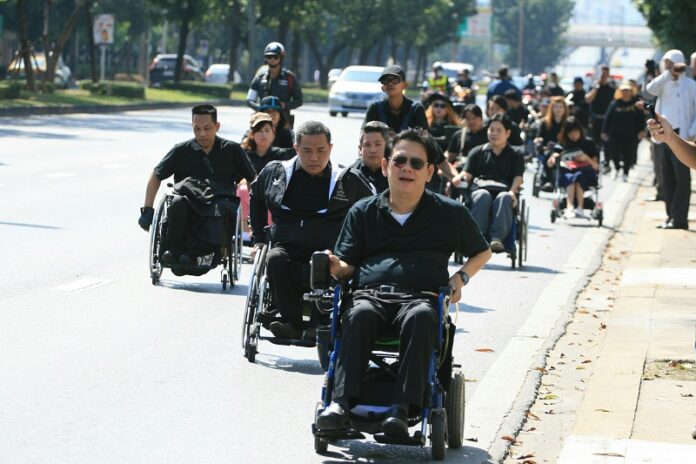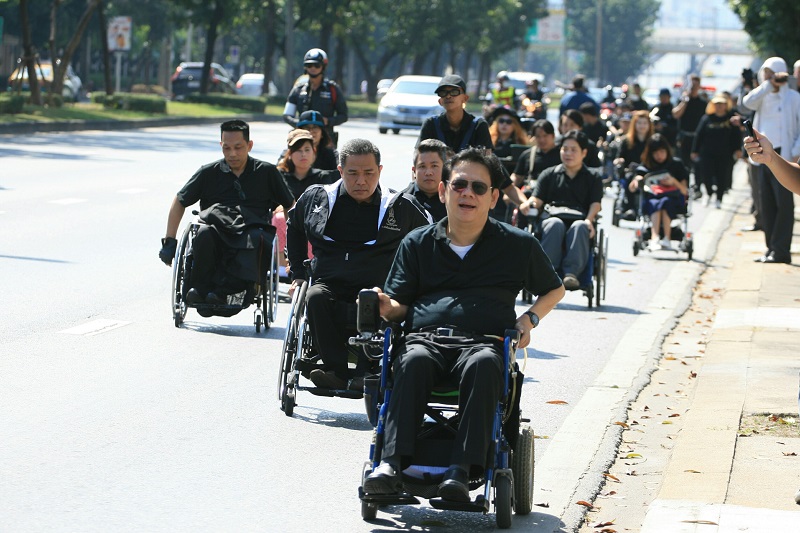 BANGKOK — Disabled rights activists rallied Thursday to petition the Administrative Court to probe why City Hall has not satisfied a high court order to make the BTS Skytrain accessible.
Two and a half years after they won a landmark case against the rail system's management, the group returned to press for action by the court. By City Hall's own admission, it has made only 37 percent progress on installing the necessary elevators and facilities at the original 23 stations.
"So we petitioned the court to examine whether it's really even 37 percent," said Sonthipong Mongkonsawat, an attorney representing the group. "And do they have a good reason for why they can't get it done?"
Read: Wheelchair Rally to File Class-Action Lawsuit Over BTS Accessibility at Court
In January, on the second anniversary of their 2015 court victory, the group filed a class-action lawsuit seeking compensation from City Hall because, despite ruling against the city, the Supreme Administrative Court said it could not penalize the responsible officials.
But regulations issued Jan. 25 gave the activists cause to press action. The new rules dictated that officials proven to have neglected court orders or delayed their implementation without due cause can be fined up to 50,000 baht.
As the regulations stipulate, Sonthipong said they have also asked the court to notify the prime minister and Interior Ministry, which oversees City Hall, to determine punishment.
In March, Bangkok Gov. Aswin Kwanmuang promised all stations would be fully equipped by the end of the year, meaning the construction will have taken three years to complete if his promise is kept.
Related stories:
City Hall Challenge Delays Decision on BTS Accessibility Suit
Elevators Unveiled at Four BTS Stations – But Do They Work?
Disabled Plaintiffs Looking for More to Join BTS Lawsuit
How Long to Install BTS Elevators? City Hall Says 3 Years.
Wheelchair Rally to File Class-Action Lawsuit Over BTS Accessibility at Court
Disabled Activists to File Class-Action Lawsuit Over BTS Access
City Hall Fails to Make BTS Accessible 2 Years After Court Ruling
Broken Promises: BTS Still Off Limits to Disabled
Disabled Rights Group Weighs New Suit Over BTS Stations
BTS Stations Remain Inaccessible to Disabled, a Year After Landmark Ruling
Court Orders Skytrain to Accommodate Disabled Passengers