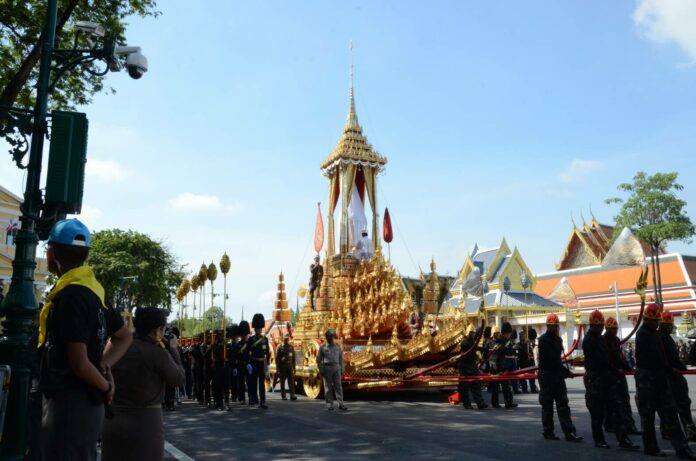 BANGKOK — Dedicated mourners gathered Sunday morning at Sanam Luang to watch the rehearsal for King Rama IX's cremation procession.
Since early Sunday morning, mourners have gathered at Lak Muang Road near Sanam Luang to watch the rehearsal of the cremation procession. The rehearsal – which included chariots and officers – ended at about 11am.
Mongkol Faengjanda, 57, a Thai herbal medicine doctor was one of the volunteers who helped coordinate visitors and act as a first aid officer Sunday morning.
"I volunteered because Rama IX did so many things for his citizens. So as a citizen it would be good for me to do at least a sliver of what he did," Mongkol said. "Even though a year passed, the people's sadness hasn't faded. If ten years passed, I would tell the later generations that Rama IX was the father of the nation and also the world, to every nationality and religion."
Mourners who wished to visit the area had to pass through one of nine checkpoints at Saphan Mon Bridge Intersection, Tha Chang Pier, Thammasat University, the statue of Mae Thorani at Sanam Luang, Kalayana Maitri Road, Saphan Chang Rongsi Intersection, Wat Pho Intersection, Tha Prachan Pier and under Phra Pinklao Bridge.
Princess Sirindhorn also arrived at the rehearsal.