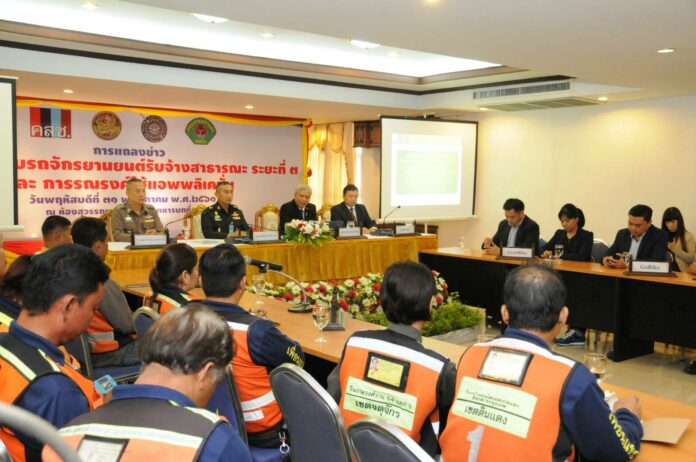 BANGKOK — Motorcycle taxis said Thursday they're not completely opposed to ride-hailing services such as GrabBike but insist they must obey the law.
Two-wheeled taxi owners admitted they need to adapt as new competitors enter the market at a meeting hosted by a military unit overseeing their operation and attended by transportation officials and representatives of application service providers.
"We're not opposed to the applications, but everything has to be done by the law, and only licensed motorcycles are allowed to offer services to people," a group representative said. "We acknowledged that win riders have to adjust in order to draw as many customers as possible. Anyway, we're closer to people, more than the applications."
Sanit Promwong, director general of the Land Transport Department, said a new round of registration for win riders will open for two months starting in July. Bangkok has about 90,000 registered win.
He added that the department is developing its own application service.
"Consumers now have more options and it matches a modern lifestyle that prefers convenience and speed," he said. "The Land Transport Department is studying, designing and developing a system for motorcycle taxis services to give people another safe and convenient option."
A representative from Grab, the largest such service provider, said the company would like to find a solution that benefits all sides. It also said it welcomes traditional win to register with the app and will give them unspecified "special privileges." Grab said it would make sure all its riders held appropriate licenses.
The meeting was the latest attempt to bury the hatchet between traditional and app drivers.
Street brawls between win and Grab riders earlier this month drew the intervention of a special military unit that reports directly to the prime minister. Angry win staged a mass rally at Grab headquarters May 17, demanding it cease employing unlicensed vehicles and operators that are not bound by the same tight regulations introduced by the military after the coup.
Related stories:
Military Urges Motosai to Register with App – Any App
Moto Rally: Riders Demand Grab Play by the Rules