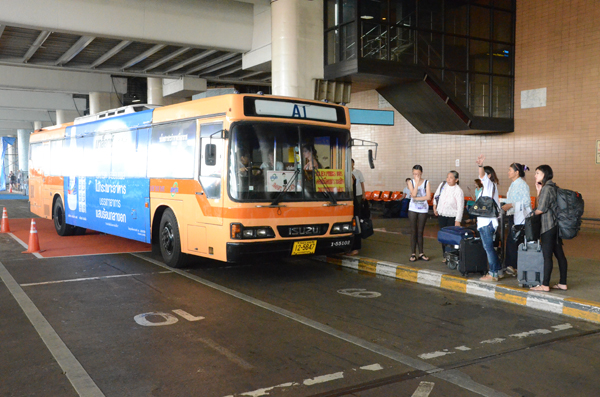 BANGKOK — Two airport buses servicing Don Mueang Airport can now be paid for by whipping out a smartphone and shooting a QR code, officials said Thursday.
The city transportation authority yesterday launched the system on the A1 airport bus, which runs between the airport and BTS Chatuchak, and the A2 route, which goes to the Victory Monument.
The service will launch July 1 for two other routes, A3 and A4.
Look inside and outside each bus for the QR code that can be used to pay the fixed fare of 30 baht. Passengers paying by the distance will have to approach the conductor to scan unique codes.
Use the smartphone app for your regular bank to pay a bill or make a payment using QR code.
It was not clear whether international payment services could be used, but Nuttachat Charuchinda, chairman of the Bangkok Mass Transit Authority, said Friday he agrees that they should be made compatible.
Prayoon Choygeo, acting director of the department, said the authority is aiming to expand the QR code payment service to every bus in the city.
ใหม่!! จ่ายค่ารถเมล์ผ่าน QR Code ในสาย A1 A2

"สะดวก ทันสมัย จ่ายได้ทุกธนาคาร".มิติใหม่แห่งการจ่ายค่าโดยสารรถเมล์ ผ่าน QR Codeโดย ขสมก. ร่วมกับธนาคารกรุงไทยนำร่องในสาย A1 (สนามบินดอนเมือง-หมอชิต)และสาย A2 (สนามบินดอนเมือง-อนุสาวรีย์ชัยสมรภูมิ).โดยสามารถใช้แอปของธนาคารใดก็ได้ สแกน QR Code ที่ติดอยู่ภายในรถแล้วโชว์หลักฐานการโอน ให้พนักงานเก็บค่าโดยสารดูครับ

โพสต์โดย Bangkokbusclub.com ชุมชนคนรักรถเมล์ เมื่อ 14 มิถุนายน 2018
Related stories:
Bangkok Buses to Finally Get Ticket Machines. Here's How They Work.
All Airport Bus Options For Those Tired of Taxis
Ride Khaosan to Suvarnabhumi for 60 Baht on New Shuttle