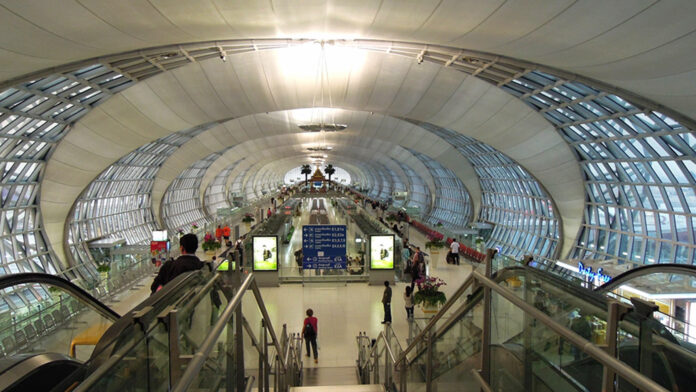 BANGKOK — The national airport operator said Wednesday it has approved 42 billion baht to build a new terminal at Suvarnabhumi International Airport.
With arrivals surging well past capacity in recent years; Airports of Thailand, or AOT, announced plans to raise it at the nation's busiest airport to accommodate another 30 million per year by building a second passenger terminal.
The board green-lit the project with a budget of 42 billion baht, and if it gets approved by the interim cabinet, construction will begin next year with completion targeted for 2021, according to AOT Chairman Prasong Poontaneat.
Prasong said the size of the new terminal would be about 348,000sqm. Train service will be built to connect the second terminal with both the main terminal and the Airport Rail Link station. Suvarnabhumi's main passenger terminal, the fourth-largest in the world, is 563,000sqm.
He added that AOT expects the number of passengers passing through the airport to increase to 65 million this year and 68 million in 2019.
Don Mueang International Airport, the second such serving the capital, completed renovation of its second terminal in December 2015. The AOT has a four-year expansion plan for the airport set to begin in 2020 with a budget of 35 billion baht.
Current plans call for increasing the combined capacity of both airports to 90 million by next year and 120 million in 2021.
Suvarnabhumi received up to 10 million arrivals in the first six months of this year, the Immigration Bureau said Monday. AOT said total passenger traffic flow January to April was 22 million travelers.
Related stories:
Thousands of Foreigners Turned Away at Thai Airports