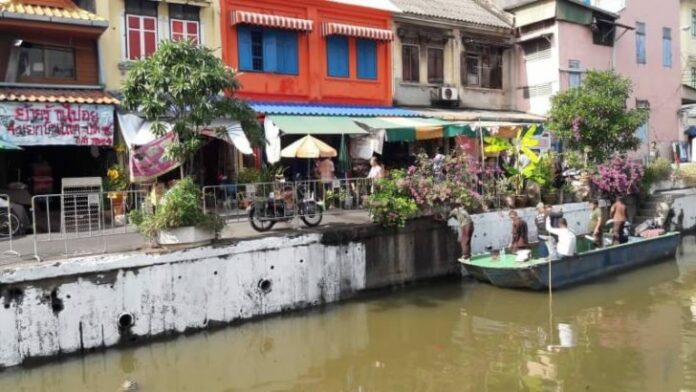 BANGKOK — Another day and another City Hall project, this one to beautify the capital, is met with controversy.
Residents along the banks of Khlong Ong Ang complain they were forced to repaint their homes and pay 35,000 baht for a metropolitan administration campaign to make the area more colorful for the Loy Krathong festival. The local district chief on Monday said no such demands were made but that the authorities would like homeowners to "cooperate" with the effort.
Sombat Kanoktipwan said the district office has provided building owners free paint with cheap services available for those who can't find painters.
"We want the canal's landscape to become more beautiful and serve as a new attraction of Bangkok," he said. "There're some building owners who use painting services provided by the district, but many of them still refuse to cooperate."
It was reported that the residents said if they refused to comply and use the district's painting service, its staff would threaten to measure their estates and demolish the buildings they deem to encroach on the public waterway.
Sombat disputed that claim, but made it clear the city expects full compliance. He said the regulations will be enforced fairly for everyone. Owners who don't feel comfortable with the painting project, Sombat said, should come to the district office to clear any doubts they have.
Asked what will they do if some homes don't participate before the festival on Nov. 22, Sombat said they will continue to negotiate until all agree to participate.
"We're in the process of negotiation with building owners to make them realize the importance of the redevelopment," he said. "There're a lot of one-floor building owners saying they don't have money for painting, so the district sent workers there to do the job for free."
He added that the problem remains with taller buildings that refused to join, which they can't provide free service for.
The campaign, launched last week, is part of a bigger canal redevelopment effort which began in June.
City Hall said it would build pedestrian paths along the canal, plant more trees, improve the sewage system, repair bridges and install more security cameras.