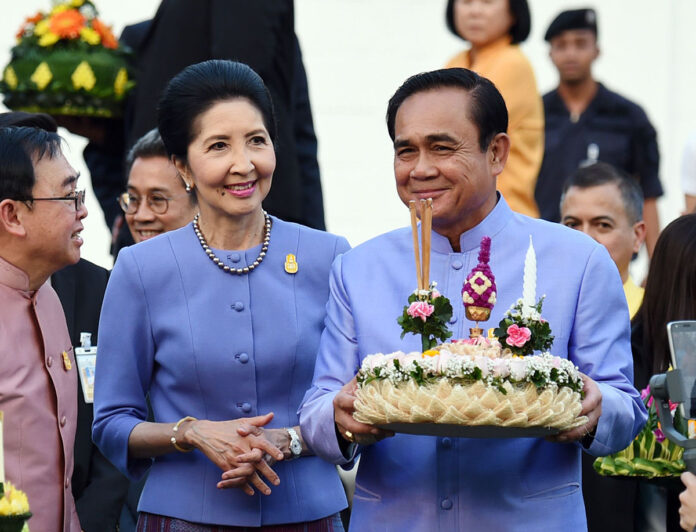 BANGKOK — From former prime ministers and junta leaders to regular folks, Thais kingdom-wide purchased krathongs to loy (float) for the annual festival Thursday night.
The festival was much more toned down last year due to the mourning period following King Rama IX's death in October 2016.
Here's how it looked.
Gen. Prayuth Chan-ocha went live for the first time via his official Facebook page as he floated a krathong at Government House with his wife Naraporn Chan-ocha.
"I hope the country is safe, and that the media are lovely," Prayuth said when asked what he had wished.
Ousted former Prime Minister Yingluck Shinawatra also took to social media to express her thoughts.
"I want to float krathongs with fellow Thais so much, but all I can do is send my sentiments," Yingluck posted Thursday evening on Facebook from self-imposed exile.
Read: Light of Morning Dispels Romance of Loy Krathong
Meanwhile, crowds descended on both sides of the riverbank by the Rama VIII Bridge to float their krathongs in a temple fair-like atmosphere. With steps leading down to the water on the western bank on the Rama VII Park, some even swam into the brackish water to push their krathongs further into the stream.
Loy Krathong 2018 at Rama VIII Bridge
A more mall-going crowd traveled to the newly opened riverside megamall Iconsiam, some in full, traditional costume.
Loy Krathong 2018 at Iconsiam
A little upstream, revelers also floated krathongs at the Phra Phuttha Yodfa Bridge.
Loy Krathong 2018 at Phra Phuttha Yodfa Bridge
Down in Phuket, expats and locals alike gathered at the Bang Ma Ruan Lake to celebrate.
Phuket celebrates Loy Krathong at Bang Ma Ruan Lake