When a downtown luxury hotel reopens as a wellness center next year, it will be a jewel in the crown of a private healthcare provider that has swallowed its competitors in recent years to become the realm's largest private medical services provider.
About the time Bangkok Dusit Medical Services, or BDMS, announced its plans for Swissotel Nai Lert Park Hotel's 15 rai of land, the group spent 1.4 billion baht to buy Mayo, another private hospital. Since 2010 it has acquired BNH, Phyathai, Paolo and Royal hospitals. It also holds majority stakes in Bumrungrad and Ramkhamhaeng hospitals.
That kind of industry consolidation has health care advocates worried about the usual things that come with less competition – rising costs and declining service. In Thailand's unregulated private health care industry, advocates worry one corporation could gain control of the market and have an outsized influence on public health policy.
"From now on, if people are upset with costs and want to move from one hospital to another, they will likely end up at a private hospital in the same group," said Preeyanan Lorsermvattana, a health care activist who's campaigned against the increasing costs of private care.
Oligopolies, duopolies and even monopolies abound in Thailand. Health care isn't the only industry lacking in competition. Convenience stores, telecoms, brewers, movie theaters and more are dominated by just one or two players, all despite an antitrust law that in 17 years has seen a total of zero rulings against big business.
A toothless law that, by design or defect, left critical portions unfinished and therefore unenforceable.
"The law is not really defective," said Deunden Nikomborirak, research director at the Thailand Development Research Institute, who has studied antitrust laws. "The law said the detailed regulations must be issued after. They just never made it happen."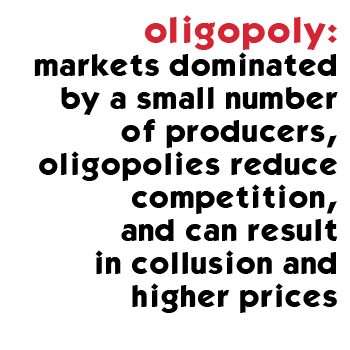 The military regime is the latest to tell the public it wants to strengthen the law, but unlike previous governments, it has actually made some progress. Last month a draft revision of the 1999 law was completed. Those advocating reform say it shows some signs of improvement but is unlikely to be a game changer.
That draft, submitted Nov. 1 to the junta-appointed legislature, was among a raft of laws earmarked "urgent" by the cabinet for progress before the year ends.
Meanwhile alarms continue to be raised about anti-competitive practices. 7-Eleven, owned by the same conglomerate as phone service provider True Corp., last month stopped selling prepaid cards from competitor AIS. Earlier this year, a small movie distributor complained it was forced into a type of pay-to-play arrangement by a major cinema chain.
When consumers or their advocates want to cry foul, they can take their complaint to one place: the Trade Competition Committee.
Monopolyland: Top Player

Click above to explore
Earlier this month, Prasert Prasarttong-osoth was named the richest investor on the Stock Exchange of Thailand for the fourth consecutive year, with holdings of over 67 billion baht.
While his portfolio contains television channels and an airline, most of that money is derived from Bangkok Dusit Medical Services, or BDMS. Its stock value increased nearly 20% in 2016, and today the company's market cap value is just over 350 billion baht. 
As Thailand's largest private medical services group, BDMS for years has expanded its business and become the market leader through a tried and true method: mergers and acquisitions.
The Deciders
Established under the 1999 law, the committee is headed by the commerce minister with permanent secretaries from the ministries of Commerce and Finance. The membership ranges from eight to 12 cabinet appointees drawn from relevant fields. Half must be from the private sector.
When film distributors were told to buy ads to get their movies shown, it was little surprise to the consumers who have two choices – SF Cinema or Major Cineplex – which sell tickets at the same, high prices.
Someone was annoyed enough to file a trade complaint in 2003, accusing the cinema groups of colluding as a cartel to raise ticket prices.
That case went to the Trade Competition Committee to decide. It soon ruled the movie house operators were clean.
Two years earlier, motorcycle manufacturers Suzuki, Yamaha and Kawasaki filed a complaint against Honda, accusing it of pressuring retailers into not selling other brands. Though Honda was eventually indicted by the commission, the process took so long it exceeded the 10-year statute of limitations and was dropped.
Another controversial case was in 2011, not long after French multinational Carrefour sold its stores to big box retailer Big C. Big C was incensed when archrival Tesco Lotus advertised it would redeem Carrefour coupons at double value. Big C filed a complaint, and the case remains unresolved today.
Reformists say those are just some of the examples which show the problem isn't with the law but its enforcement. In fact, not once in its 17-year history has the committee ever prosecuted a business for violating the law.
Critics say one reason it is ineffective is because the committee is headed by a political appointee.
"No country lets a minister sit as chairman," Deunden said.
The minister's demanding schedule also means the committee holds very few meetings per year. Not to mention the vulnerability to political and business pressures brought to bear.
The new draft tries to fix this problem by replacing the committee members with experts.
But as Deunden pointed out, the underfunded agency – its annual budget is 6 million baht – will have a hard time attracting talented professionals who could earn more sitting on high-profile corporate boards.
Approval With a Nod (Wink Optional)
Many were surprised in 2010 when Big C acquired rival Carrefour for 3.8 billion baht. Authorities signaled concern about the deal, but seems to be the default, nothing more happened.
While mergers and acquisitions are legitimate, they can also be shortcuts to unregulated monopolies. In many countries, concern about the threat they pose to competition is at the heart of antitrust laws and the costs are extremely high. The EU Commission and US Department of Justice have blocked a number of market-changing mergers of some of the world's largest corporations.
Under Thailand's 1999 trade competition law, businesses must win approval for such deals if they are likely to affect the market.
In practice, it's never been a thing. There are no detailed regulations identifying what mergers would need to seek approval.
So drafters of the new draft took another approach. They wrote that businesses won't need approval, they need only inform the Trade Competition Committee – seven days after the deal is done.
If the committee then determines a monopoly situation resulted from the deal, the new draft fails to say what it should do next.
Duenden said there are a few countries which use this model.
"But then businesses risk being ordered to separate after," she said. That means, she added, there must be clear regulations about what kind of mergers are okay and advisors available for businesses to make informed decisions.
She worries that may never happen.
This system could ease the creations of monopolies, according to a lawyer with a background in trade competition law.
"If big business grows without regulation, they will have more dominance over the market," said Wipanan Prasompluem of international law firm Allen & Overy. "That power will create opportunity to commit even more offenses."
Government in on the Business
Oligopolies aren't limited to the public sector.
Investors know the wisdom of investing in state-owned enterprises, which always perform well in Thailand stock market.
Besides their built-in monopolistic tendencies, entities such as Thai Airways, PTT and Airports of Thailand also benefit by not being regulated by the 1999 trade competition law.
"It was controversial that state-owned businesses, such as energy and airways, were not under the law, even though they aim for commercial not public interest," Wipanan said.
That's a point in favor of the new draft, which includes state-owned enterprises under its purview. Still, it exempts business activities considered necessary for national security and public interest.
Law Handicapped by Defects
Even blatant cases of anti-competitive practices have been met with inaction.
Singha Beer had monopolized the beer market in Thailand for seven decades until Thai Beverage, make of Thai whiskey Mekhong, joined the fray by introducing Chang Beer.
To obtain market share, the brewer, aka ThaiBev, told its distributors it would not sell whiskey to them unless they also bought beer. ThaiBev would do the same when it introduced Archa Beer to the market in 2004, which it sold at a loss.
Singha maker Boon Rawd Brewery filed complaints in both cases. They went nowhere, in part due to, again, portions of the law left undefined. While the included penalties for those who abuse market dominance, it didn't define just what a "market" was.
Wipanan said this issue was made better under the new draft which also requires updated regulations every three years.
Opening Up the Books
The process of rewriting the law continues and is expected to soon be completed, possibly early next year.
In the end, no matter how the law is amended, its impact in creating fair markets will always depend on those wielding it.
Visit the Trade Competition Committee's website in search of its case history, and find only brief summaries of why every case was dismissed. More baffling is the decision to redact all names of the brands in questions from its reports.
Duenden said the most important missing regulation is making the review process transparent, so the public knows justice is being done and industries can learn what standards are being applied.
"Otherwise who knows how you exercised judgment?" Duenden said. "The law is not black and white."
With the argument that the office will still continue to show poor performance due to its low funding, Duenden said the agency also must demonstrate to the public it is crucial to maintaining balancing in the economy. Once that faith is earned, it can negotiate for a larger budget.
Duenden said that would take a landmark ruling that showed it was a force for market justice.
"But they need to make visible achievement, and not by doing some small cases, but a case that really affects a lot of people," she said.