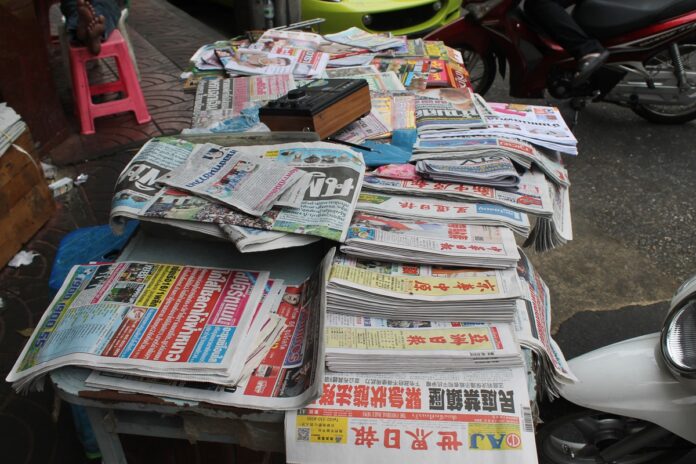 BANGKOK — The end of 2016 brought the final run of a 45-year-old daily newspaper, capping a punishing year for print media.
Driven by plummeting advertising revenues, the global print decline caught up with Thailand's publishers, the largest of which have begun taking drastic measures in response to large losses to avoid the fate of Baan Muang, which ceased production New Year's Day.
"Baan Muang is a clear case. It's medium or small papers that have been affected by changing consumer behaviors, decreasing ads and more targeted ads [online]," said Mana Treelayapewat, dean of the communications department at the University of the Thai Chamber of Commerce. "Then there's the cost of printing physical newspapers and retaining staff."
According to The Nielsen Co., a leading global data measurement company, the Thai newspaper industry's advertising revenues have declined continuously since 2013. What stood at 15.4 billion baht in 2006 had fallen to 12.3 billion baht in 2015.  Advertising budgeted 20.1 percent less for newspaper buys in the first 11 months of 2016 compared to the same period in 2015, down to 8.89 billion baht.
While print media continues to generate revenue, many are built atop monolithic organizations that had avoided some of the painful measures taken elsewhere since the turn of the millennium. Observers now acknowledge that print in Thailand is a sunset industry.
If you don't believe the so-called experts, an article published in July by no less than the the kingdom's leading journalism association used the same language and said both newspaper sales and advertising revenues have been in "steep decline."
Those losses have been felt all around.
Material Losses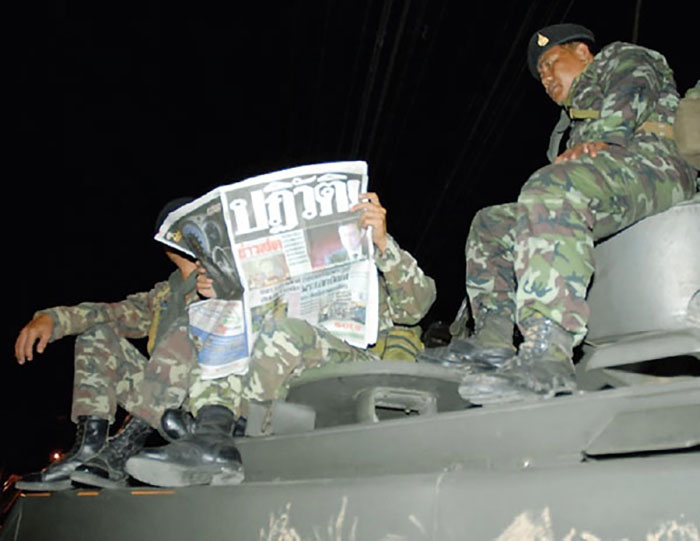 The Matichon Group of newspapers, which includes Khaosod English, registered a loss of 86 million baht by the end of the third quarter, according to reports filed with the Stock Exchange of Thailand, or SET. In that same period, SET-listed Post Publishing Co., publisher Bangkok Post, Post Today and M2F newspapers, returned from the red under austerity measures to eak out a modest profit of 450,000 baht compared to a 42.1 million baht loss in 2015.
Measures taken by different newspapers vary, according to the journalist association's report, as well as past and present employees.
At Post Publishing, there has been a freeze in salary increases and the size of the newspaper has shrunk on weekdays with fewer pages printed. Travel upcountry by staff has been curbed and a hiring freeze put in place, including backfilling vacant positions.
One former staffer who wished not to be identified said the paper was considering moving its website behind a paywall, where only paid subscribers could read stories, such as the New York Times and some other papers have done.
Since the mid-year replacement of longtime editor Pichai Chuensuksawadi with Umesh Pandey, the paper also lost Deputy Editor Nopporn Wong-Anan to BBC Thai. The paper's award-winning Sunday Spectrum section was all but gutted with the departures of editors Michael Ruffles, Dane Halpin and marquee reporter Nanchanok Wongsamuth, who has also joined BBC Thai.
Long-standing perks such as complimentary copies of newspapers delivered to employees' homes have also ended.
Matichon Group has also imposed hiring freezes and offered early retirement to some senior personnel, whose positions were left vacant. Cost reductions include saving water and electricity costs. The number of newspaper pages has also been reduced.  Talk of launching Khaosod English as a print product were shelved due to market conditions.
At Nation Multimedia Group, which includes English-language The Nation newspaper, Kom Chad Luek and Bangkok Biz News, the Thai Journalists Association's July report noted a big drop in advertising revenues led to the reduction of the number of some of the newspapers printed.
At Daily News newspaper, new hiring has stopped even for staff who have resigned.
At Thai Rath, the kingdom's largest-circulation newspaper, cost-cutting measures have included pooling office vehicles on duty and reducing the use of paper in the office. Annual bonuses there have also been reduced from six months to three months.
Shrinking advertising income, downsizing, smaller papers, early retirement, hiring freezes the disappearing newsstands have become the norm in the terminally  newspaper industry. Experts and journalists agree the physical newspaper is in terminal decline as an industry, but differ on what that means for society, however.
Adapt or Die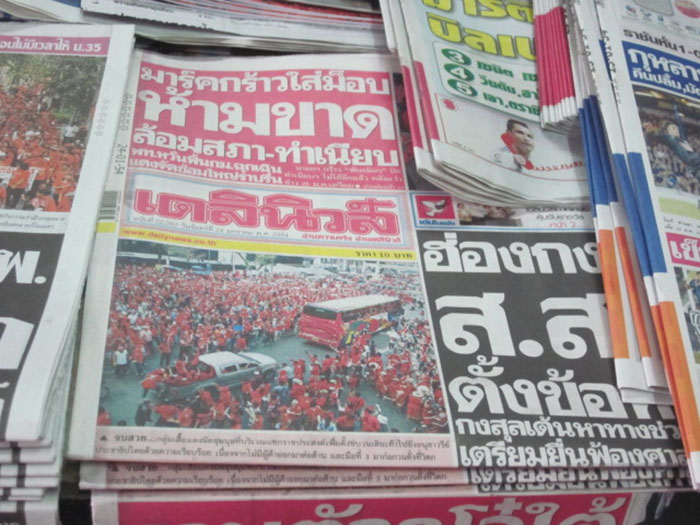 Mana Treelayapewat, dean at the School of Communication Arts at University of the Thai Chamber of Commerce, said print became a sunset industry many years ago when even the best-selling papers began to see declining sales.
"Nobody is paying," the 50-year-old dean said, adding that consumers have moved online and confessing he hardly buys newspapers any longer.
Mana attributes the decline to print media's failure to offer a distinct product and transition advertising baht to online media and other platforms.
Those sentiments were shared by Ubonrat Siriyuwasak, a former lecturer at Chulalongkorn University's Faculty of Communication Arts.
"Those who want to survive must downsize and have something online," said the 65-year-old former lecturer who also confided that she seldom buys newspapers.
A veteran Baan Muang columnist by the pen name of Chalarm Kiew, who worked as a journalist since 1979, wrote parting words on Dec. 3.
In the widely read column, he said more factors were contributing to the demise of the newspaper industry.
He blamed the erosion of democracy for going on three years under the ruling junta, the so-called National Council for Peace and Order, for making the economy even worse.
"When advertising dries up for two years [under the junta], this is sadness," Chalarm Kiew wrote before admonishing his fellow journalists to hew to principle:
"If you are a journalist – do not be pro-dictatorship."
Tough Transition
The good news from the Nielsen data was that total online advertising spending grew by 63.4 percent between January November last year to 1.59 billion.
But for now advertising online has yet to generate the same sales to offset the losses. An old world is dying while the new is yet to come of age and become self-sustaining, according to media experts.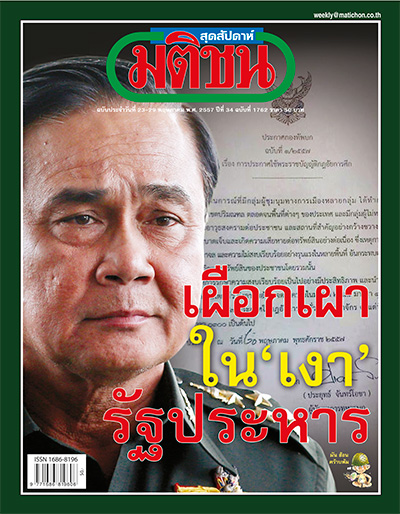 Mana said this is partly because he hasn't seen any online media with the kind of content that readers are willing to pay for. This, he said, is made more difficult by the fact that the public has become used to reading things online for free.
On the other hand, people 30 or under hardly read any physical newspapers any longer, Mana added.
"It was different 10 or 20 years ago when people would still buy papers, say to check the football results," he said.
Even upcountry, the dead said, old newspapers stands are closing because younger-generation shop owners feel that the profit margins are too small. In Bangkok, some of the newspaper and magazine stands located inside the capital's BTS Skytrain stations closed down this past year after being in operation for more than a decade.
Part of the undoing is the quality of journalists and print media journalists who have become trapped in routine work and prioritize sensational news over investigative reporting, said Sirinart Sirisuntorn, the 44-year-old former social and environmental news editor at Bangkok Biz News, the kingdom's leading financial daily.
Sirinart said the way print media reacted to the decline in revenues is partly to blame. Sirinart worked at the paper for 20 years before leaving for Voice TV two years ago. She said reporters are being told to juggle among too many news items at the same time over too many media platforms, and they are turning into news-factory workers unable to produce content of any distinction or quality.
For Sirinart, the only way for some print media to survive is to provide distinct and quality content, not more content that can be easily found freely on the internet.
"If print media don't adapt, they will surely die," she said. "People will just read online, which is more accessible."
Additional writing and reporting Todd Ruiz.
Correction: An earlier version of this story misspelled the name of former Bangkok Post reporter Nanchanok Wongsamuth.